The start of a new year is the perfect time to think about expanding your culinary horizons. Reflect on delicious meals past and imagine what your dining future holds.
Are there new cuisines you want to try, a unique dish you're seeking out, or cuts of meat you've never had?
Let us help kick-start your 2017 culinary to-do list with these 9 must-try cuts from our butcher shop. It's a collection of extravagant indulgences, lesser-known cuts, and unique variations of traditional favorites.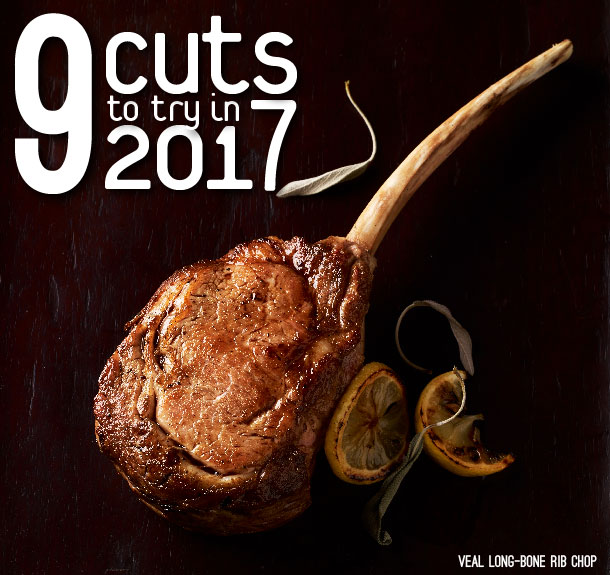 1. Wagyu Filet Mignon
If you like filet mignon, take it up a notch by trying this cut in American Wagyu Beef.
2. USDA Prime Dry-Aged Boneless Double Strip Steak for Two
If you enjoy strip steak, try this double thick version—just the right size for two to share.
3. USDA Prime Bone-In Tenderloin Steak
The added flavor from being left on the bone makes this unique cut a revelation.
4. Veal Long-Bone Rib Chop
The elegantly frenched bone on this chop adds drama and flair.
5. Lobel's Signature USDA Prime London Broil for Two
An unforgettable cut exclusive to Lobel's, this Signature London Broil is in a class of its own for exquisite flavor, tenderness, and texture.
6. Berkshire Pork Belly
Braise, roast, or grill-roast. Use small dice as a flavoring agent for other dishes. And for the adventurous, cure and smoke the belly for homemade bacon.
7. USDA Prime Flat Iron Steak
This steak boasts tenderness that rivals that of more premium steaks, while its beefy flavor is hearty and compares to skirt or hanger steak.
8. Wagyu Tri-Tip
This West Coast favorite delivers big, beefy flavor even though it's comparatively lean. Try it in fajitas, kabobs, stir fry, or satays. It's also the preferred cut among chili champions.
9. USDA Prime Filet Mignon Burger
We've taken our customers' #1 favorite steak and turned it into a luxurious hamburger. Juicy and tender, these burgers have every nuance of flavor for which our filet mignon is most prized.
Which of these cuts are you going to try this year? Do you have any culinary resolutions for this year? Are you going to try new recipes? Have you found an interesting cooking method you'd like to use?
Save