In addition to soaking up sunshine, one of the best parts of springtime is heading outside and taking a deep breath of that fresh spring air–and then you smell it–someone in your neighborhood is grilling! It smells so wonderful–it makes you want to fire up your own grill right there on the spot.
And we're all in favor of that. In fact, we think there's hardly anything that can't be made on the grill. Have you ever prepared your entire meal on the grill? Dinner, sides, and dessert? That's right–even sweet, delicious desserts can be grilled.
Fire up the Grill for Fruit
Peaches and cream. Warm peaches with creamy vanilla bean ice cream melting seductively over them–it's heaven in a dish. Add the smoky infusion of flame-kissed flavor and you have a quintessential summertime dessert. Just halve the peaches and remove the pit, place the peaches flat side down on the grill, and cook for about 8 minutes. Don't forget to let the peaches cool slightly before serving with vanilla ice cream.
Pineapple. Grilled pineapple is a unique and delicious topping for a burger or a perfect accompaniment for pork chops. Plus, it's a great dessert as well. Slice the pineapple into rings for easy grilling and sprinkle with a little salt–it'll make the flavor more intense! Add the pineapple to a nice coconut sorbet for a tropical getaway in your own backyard. Or follow our recipe for Grilled Pineapple.
Banana boats. This is an old campfire favorite that you enjoy at home–along with a little bit of nostalgia. Start by peeling back just one section of the banana peel, but don't fully detach the peel from the banana–leave it attached at one end. Scoop out a bit of the fruit, the entire length of the banana, so that there is room to add the sweet stuff–chocolate chips, peanut butter chips, butterscotch chips, marshmallows, chopped nuts, or whatever you desire. Once you've added your fillings, place the peel back over the top, then wrap the banana in foil. Grill for about 5 to 10 minutes.
Banana Split. Speaking of bananas–how about a grilled banana split? Cut the banana in half lengthwise (leave the peel on) and grill for about 3 minutes over medium heat. Peel the bananas and serve immediately with the rest of your banana split.
Fruit kabobs. Kabobs are fun to make and even more fun to eat–and you can have kabobs for dessert, too! Try a strawberry shortcake kabob. Alternate between strawberries and cubes of pound cake on the skewer and then grill. Serve the kabobs with ramekins of whipped cream for dipping.
The Dish on Dough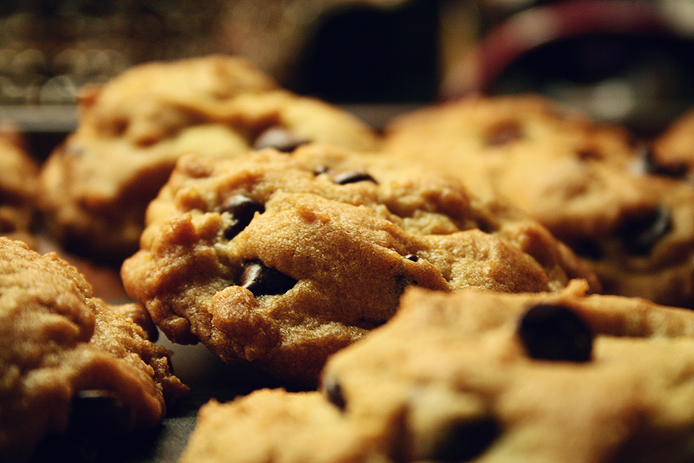 Chocolate Chip Cookies. Chocolate chip cookies can even be grilled. Foil is key to this grill-baking technique. Prepare your dough as usual, put the cookies on foil, and let cook for 20 minutes or so. You can try all your favorite cookie recipes on the grill.
Cake. Yes, that's right–cake. Slice up some pound cake and grill it. Grilling gives the cake a nice toasted exterior with a warm and fluffy interior. Top with a strawberry compote or your favorite jam, or drizzle with warm icing. Or you can even bake right on the grill. Try one of these recipes from our friends at Weber Grills: Apple Cake, Chocolate Brownie Cake, or Grilled Pineapple Upside-Down Cake.
Pie. Baking a pie in a cast iron skillet gives it a delicious and unique crust. And grilling lends its one-of-a-kind smoke and flame flavor. Since cast iron skillets are known for their heat capacity, bring one on out for the grill and try your favorite pie recipe on the grill.
Pizza. Pretty much everyone knows grilled pizzas are fantastic. But they aren't just for dinner. Start by shaping your pizza dough and brushing oil on the top. Place it oil side down on the grill and cook until it's golden brown (you may have to rotate the crust to cook it evenly). When nicely browned, flip the crust to cook the other side. Remove from the grill and spread with ricotta or mascarpone cheese. Top with a halved and pitted tart cherries and dark chocolate chunks. Return to the grill, just long enough for the toppings to warm and the chocolate to melt slightly.
Bread pudding. The key to grilling this dessert, again, is foil. Butter the foil and then make a packet. Mix your ingredients, put them in the packet, and grill over indirect heat for 30 to 40 minutes. Be sure to turn the packet a few times throughout.
Pinspiration
Looking for more great grilled desserts? Check out our new board on Pinterest dedicated to the topic.
Have you ever grilled dessert? If so, what's you're favorite grilled dessert? If not, what do you think you'd like to try to grill? What is your favorite pin on our Pinterest board?