Gaucho Cuisine: Wood, Fire, and Skirt Steak
Argentines are mad about beef. As a nation, they consume more beef per capita than any other populace on the face of the earth. And among all cuts of beef, skirt steak is the hands-down favorite.

Just how big is the Argentine appetite for meat? The rule of thumb for any get-together is: There is no such thing as preparing too much meat or too many varieties of it, from steaks to chops, sausages, organ meats, ribs, and poultry. In fact, when planning an asado—a term with several definitions including a round-the-clock barbecue party—typical portions are estimated at about 4 pounds per person.
Argentine passions are as particular about the type of meats being cooked as they are about the ways in which it is prepared.
Home, Home on the Pampas
The world-acclaimed beef of Argentina is largely grass-fed and raised on the open pampas, the temperate lowlands of South America. Here, on cattle drives reminiscent of the American Old West, Argentine cowboys, called gauchos, created a unique cuisine centered on the many ways to cook with wood, fire, embers, cinders, and ash.
The Argentine way of life is tied intimately to fire for a multitude of purposes, from cooking food to heating water and households. Within cooking alone, there are different types of fires, each for different type of grilling, roasting, and baking.
Seven Fires
Francis Mallman is Argentina's most notable and cherished chef. In a sense, he is to the 7 fires of Argentine cookery what Auguste Escoffier is to the 5 Mother Sauces of French cuisine. His 2009 book, Seven Fires: Grilling the Argentine Way is a Rosetta Stone of Argentine cookery, unlocking the mysteries and complexities of one of the world's truly great cuisines.
The fires range from the ubiquitous parilla, an oak-fired grill consisting of a rectangular cast-iron grid supported by four legs and set over an open fire, to, at the other end of the spectrum, the grand-scale asador, used to roast whole lambs, pigs, and even steer carcasses that have been butterflied and stretched across the supports of an iron cross.
Click here for Mallman narrating full descriptions of all seven fires.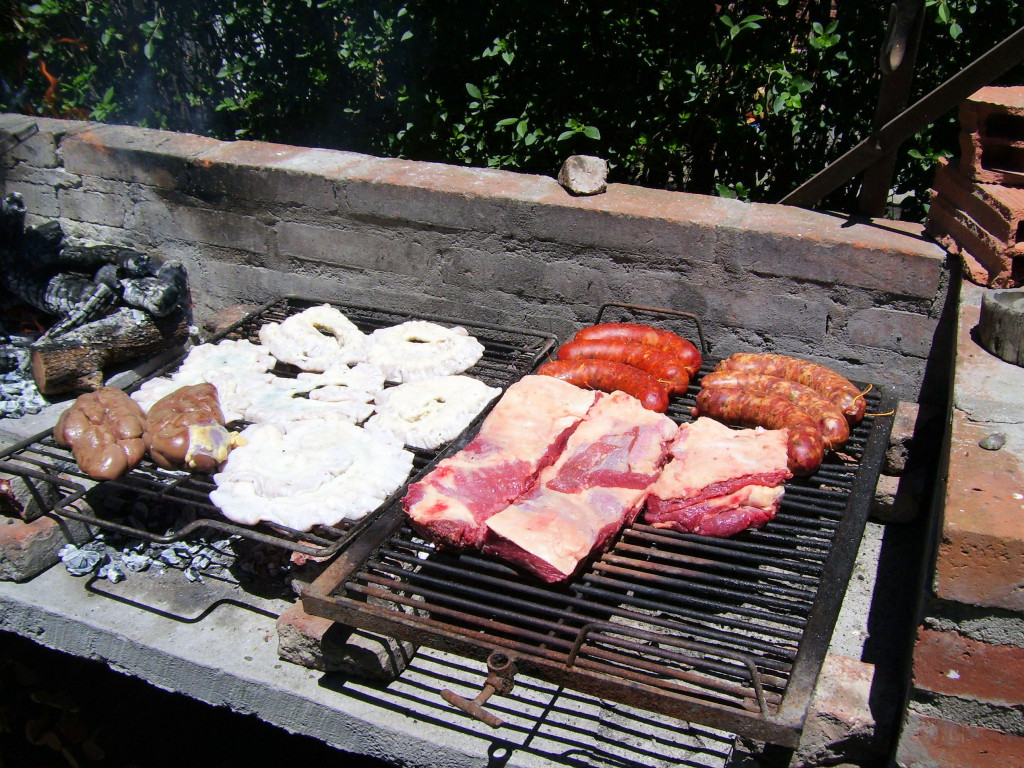 Skirt Steak
Among Argentines, the most popular cut of steak is skirt, a boneless piece of beef cut from the diaphragm muscle in the plate (chest), between the brisket and flank. In Argentina, skirt steak is known by two names: churrasco, a generic term for any type of boneless meat, and more specifically, entrana.
Skirt is a thin cut with a large open grain and is often marinated when it comes from a lower quality grade. However, USDA Prime, Natural Prime, and Wagyu skirt steaks are so well-marbled and naturally tender that marinating is not necessary; in fact, it can be detrimental to the steak's texture. Ranging in thickness from 1/2 to 3/4 inch, skirt steaks are ideal for direct high-heat grilling and they cook with lightning speed.
In Argentina, skirt steak is simply salted before it hits the heat. However, a light coating of olive or grapeseed oil and a couple twists of fresh-cracked pepper are  simple yet effective flavor boosts and aid in the formation of a caramelized crust.
Skirt steak is long and rectangular with the grain running perpendicular to its length. Consequently, when slicing a skirt, to maximize the tenderness of the bite, it is best to cut it into 5- to 6-inch sections and then slice across the grain.
Stakeout or Steak-Out
In his 2002 film, "Assassination Tango," writer, director, and star, Robert Duvall offers a well-informed 35-second (48:40 – 50:15) homage to a churrasco sandwich purchased at a mobile street-side parilla as only a true beef lover could portray.
Duvall plays John J. Anderson, a soon-to-retire aging assassin overflowing with conflicting passions and priorities. While on assignment to hit a wealthy general, Duvall's character comes under the tutelage of an angelic, raven-haired tango star, and, through the course of the movie, becomes a jaw-dropping dancer demonstrating moves with Astaire-like ease, grace, and fluidity. No stunt double here, that's really Duvall gliding effortlessly across the dance floor with all the passion and aggression of a finely executed tango.
Each time Duvall takes a bite, he does the "sandwich hunch," bending at the waist, elbows splayed, to avoid drips messing up his clothing. Duvall gives a thumbs up to the street vendor. So convincingly portrayed, you can almost taste the charred skirt steak, crusty roll, and spicy chimichurri sauce.
Going Green
Chimichurri is the national sauce of Argentina. It is a vibrantly verdant mixture of fresh parsley, oregano, garlic, vinegar, olive oil, and chile with a pesto-like consistency. Whereas salt, pepper, and ketchup are found on most restaurant tables in the U.S., a pot of chimi is ever-present on Argentine restaurants tables, instead of ketchup.
Have you ever eaten in an Argentine or South American restaurant? Did you order skirt steak? Have you ever grilled Argentine-style? If so, tell us about it!