As summer fades into autumn, our focus on meal planning begins its own transition. It's that time of year when we're reluctant to give up our grilling tongs and wood chips, yet our thoughts turn to the seasonal harvest and our appetites build for meals offering comfort and warmth.
So, take advantage of any good weather the season offers. However, it's a good idea to build menus around dishes that can be prepared outdoors or indoors if a change in the weather requires a change in your cooking and entertaining game plan.
Check out Lobel's Guide to Cooking the Perfect Steak. It offers three different techniques: one outdoor for grilling and two indoor for pan searing and pan roasting. For example, a grilled steak can become a pan-seared steak. A grill-roasted pork loin can become an oven-roasted pork loin.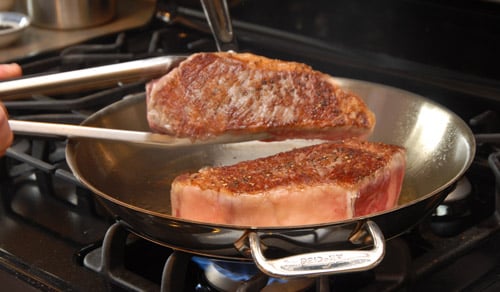 As for the pork roast, or any roast for that matter, follow along with our How-To: Grill-Roast tutorial when the weather is good or our How To: Oven-Roast tutorial when it isn't.
Such large cuts as a whole brisket or whole pork butt can become braised dishes if the weather nixes plans to smoke or barbecue them.
Beef rib roast or whole tenderloin, veal rack roast, and leg of lamb are all versatile cuts that can go from grill-roasted to oven-roasted should there be a drop in temperature or an increase in precipitation.
Here's another good example: our recipe for Grilled Meat Loaf, an adaptation of a recipe in our book, Prime Time: The Lobels' Guide to Great Grilled Meats. The original recipe calls for grilling the meat loaf in foil. But, if your plans run into inclement weather, you can also put the meat mixture into a loaf pan, and bake at 350° in your oven for 1 to 1 1/4 hours for juicy, tender results.
At this time of year, keep a bowl of steamed whole potatoes on hand as well. If it's an outdoor meal, they're easy enough to make into a do-ahead potato salad. Or brush thick slices with olive oil and grill on medium heat until they're warmed through. On the other hand, if you have to cook inside you've got the makings of Lyonnaise potatoes, potato pancakes, home fries, or what could be better with meat loaf than mashed potatoes.
The same planning technique holds true with vegetables. Those sliced eggplants, zucchini, peppers, and onions that you were planning to marinate and grill can just as easily become a roasted vegetable medley with little extra time and effort. Simply cube the vegetables, mix with olive oil, minced garlic, fresh herbs, and some chopped tomato. Place the mixture in a single layer in a roasting pan and place it in a 375º oven for about 30 minutes. Toss the vegetables every five to seven minutes.
With a little planning and a little flexibility, you'll serve meals to remember come rain or shine.

What's your go-to recipe for cooking in uncertain weather? Have you ever had to call a Plan B into action due to a change in the weather? Or are you the hardy type who will grill out, even if it requires mittens and a parka?