Ultimately, for maximum satisfaction—and the safest and most accurate way to test for internal temperature of your steak or burger—an instant-read thermometer has no equal.
Analog versions are good, albeit slow. Digital versions are better, mainly because they provide faster and more precise results, and many have calibrating features to keep them accurate.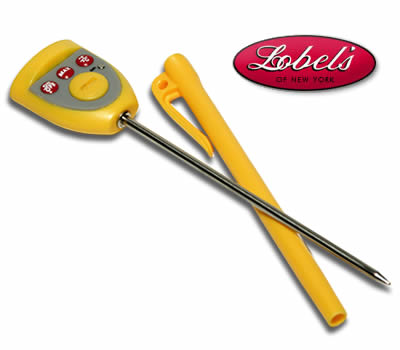 If you are using an instant-read thermometer, don't poke what you are cooking too soon—you'll let the juices run out. Your first check should be after about 80% of your estimated cooking time has elapsed.
The downside to a digital thermometer: You're dead in the water if the battery goes out, you don't have a spare, and the closest battery is in some general store two towns away.
Now, what do you do?
Use a variation of the touch-method of testing for doneness. That is: Pressing the meat lightly to test its resilience and compare it to the feel of parts of your hand or face. The more done the meat is, the firmer or less resilient it becomes.
Regardless of the method you choose, practice to get the feel of it—literally. That'll mean poking what you're cooking with an instant-read thermometer a bit sooner than recommended above. But what you sacrifice in lost juices with your experimentation, you'll make up for in long-term improvement to your overall results.
When grilling something, divide the estimated cooking time into four even units. Check the internal temperature with your touch-method observations.

The most common method uses the fleshy muscle just below your thumb as a reference point.
With the index finger of your opposite hand, touch the reference spot with your:
• Palm open = Raw
• Index finger touched to thumb = Rare (120°–130° F)
• Middle finger touched to thumb = Medium-Rare (130°–140° F)
• Ring finger touched to thumb = Medium (140°–150° F)
• Pinky touched to thumb = Well done (160° F+)
Another colorful, though less practiced, method is one developed by the great Auguste Escoffier, father of modern French cuisine. He preferred touching his:
• Ear lobe for Rare
• Cheek for Medium-rare
• Side of nose for Medium
• Tip of nose for Well-done
Have you ever tried these doneness methods? What's your go-to method for determining doneness? What do you usually do if your thermometer suddenly dies or goes missing in the back of the kitchen drawer?