Mustard is the world's oldest condiment. Celebrated in the U.S. with National Mustard Day on the first Saturday of August, it is the most universally used condiment in the world, as well.
Whole, cracked, ground, and powdered mustard seeds have been mixed with other ingredients to create a sauce of many hues and intensities since the days of ancient Rome.
Half a world away, the Chinese have been using mustard seeds whole, rather than ground, in cooking for thousands of years.
One of the by-products of Roman expansion was the first exchange of mustard seeds from the Egyptians, who also used only whole seeds. In those days, the Romans broke new ground, so to speak, by coarsely grinding black mustard seeds then mixing them with the unfermented juice of grapes before the liquid, or "must," became wine.
Cascade nearly 2,000 years of mustard's worldwide development and proliferation to 1777 and Messrs. Maurice Grey and Auguste Poupon of Paris. They advanced a highly refined mustard sauce that contained finely pulverized brown seeds and fully developed white wine. Thus, the birthplace of modern mustard is considered the home of the Grey Poupon creation: Dijon.
It's Not Just About Flavor
Every part of the mustard plant is used: seeds, stems, and leaves for a wide variety of purposes.
Besides complementing your favorite hot dog or sausage in a crusty bun or a mile-high pile of pastrami on fragrant rye bread, mustard has myriad uses that are totally removed from edible things. In one form or another, mustard is used as a poultice for treating a variety of ailments, a decongestant, a muscle relaxant, an all-natural herbicide, and a salve for minor burns.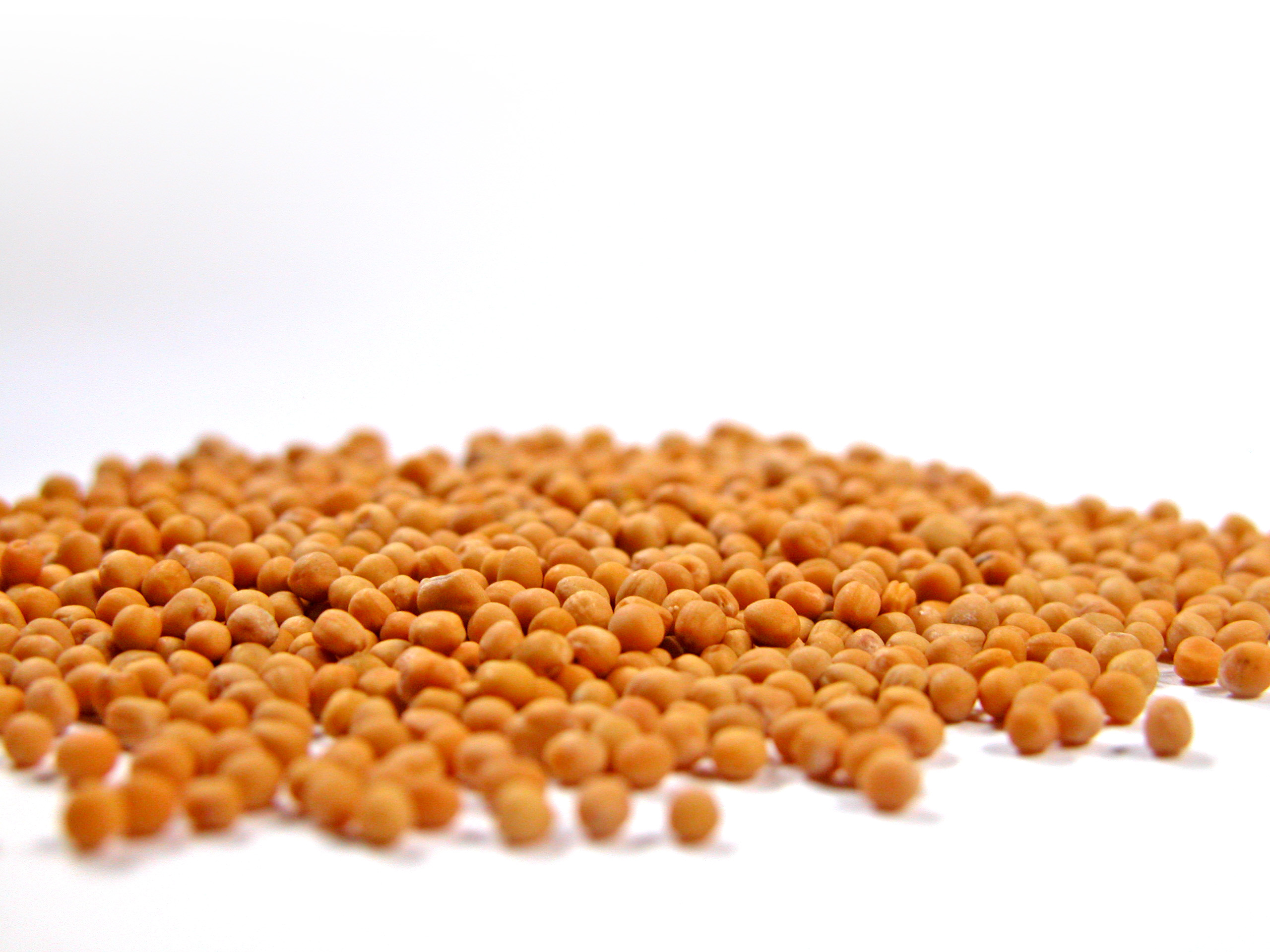 When It Comes To Food
In culinary use, mustard can be found just about anywhere you go—in soups, vinaigrettes, sauces, and marinades.
There are 3 general categories of mustard seeds: black, brown, and yellow/white. Their relative heat levels correlate to the seed's color: the darker, the hotter. Color, however, is not an indicator of a mustard sauce's heat.
The range of mustards that exist is wide open, limited only by imagination. Commercial mustards break down to several broad categories:
Yellow/Ballpark Mustard: The brightness of this mustard's yellow hue is largely determined by the amount of turmeric in the recipe. This is the predominant type of mustard used in the U.S.
Whole-Grain: This type of mustard has a distinct crunchiness because the tiny seeds are left whole in the mix.
Coarse-Grain: Has a smoother consistency that is flecked with mustard seeds pieces. Creole mustard is in this category, as is Dusseldorf-style mustard—the first choice to accompany NY-style pastrami. This type of mustard is also known as brown mustard or deli mustard.
Bavarian: A dark-brown, sweet mustard that contains varying amounts of sugar.
Pairing Up
When pairing a type of mustard with sausages and other meats, opposites complement. Try a spicy Andouille or Chorizo with a sweet Bavarian mustard.
With a smoky Kielbasa or a rich, luscious and garlicky Kaese Krainer try a spicy, hearty mustard—a horseradish mustard, for example.
DIY Mustard
Mustards are easy to make at home. At the most basic level, mustard includes one form of mustard seed and a liquid, usually water or vinegar, but really anything thing you want—beer, wine, stock. Water-based mustards are best when freshly mixed. Either buy whole mustard seeds and grind them yourself or get a mustard powder.
Chinese hot mustard can be made from 2 parts mustard powder to 1 part water or vinegar. That basic formula is the foundation of any mustard you want to create. If you want a milder mustard, increase the ratio of liquid to powder as your taste dictates.
What is your favorite style of mustard? Do you have a go-to brand? What is your favorite food to pair mustard with? Are you the type that MUST have mustard on a sandwich, hot dog, or sausage?