A rich, decadent treat, these stuffed veal chops—crisp with bread crumb crust and oozing with fontina cheese—are an impressive and elegant choice for a romantic Valentine's Day dinner at home.
The chops can be assembled long before dinnertime and take only about 15 minutes to cook. Serve with simply prepared spinach or Swiss chard and sautéed mushrooms.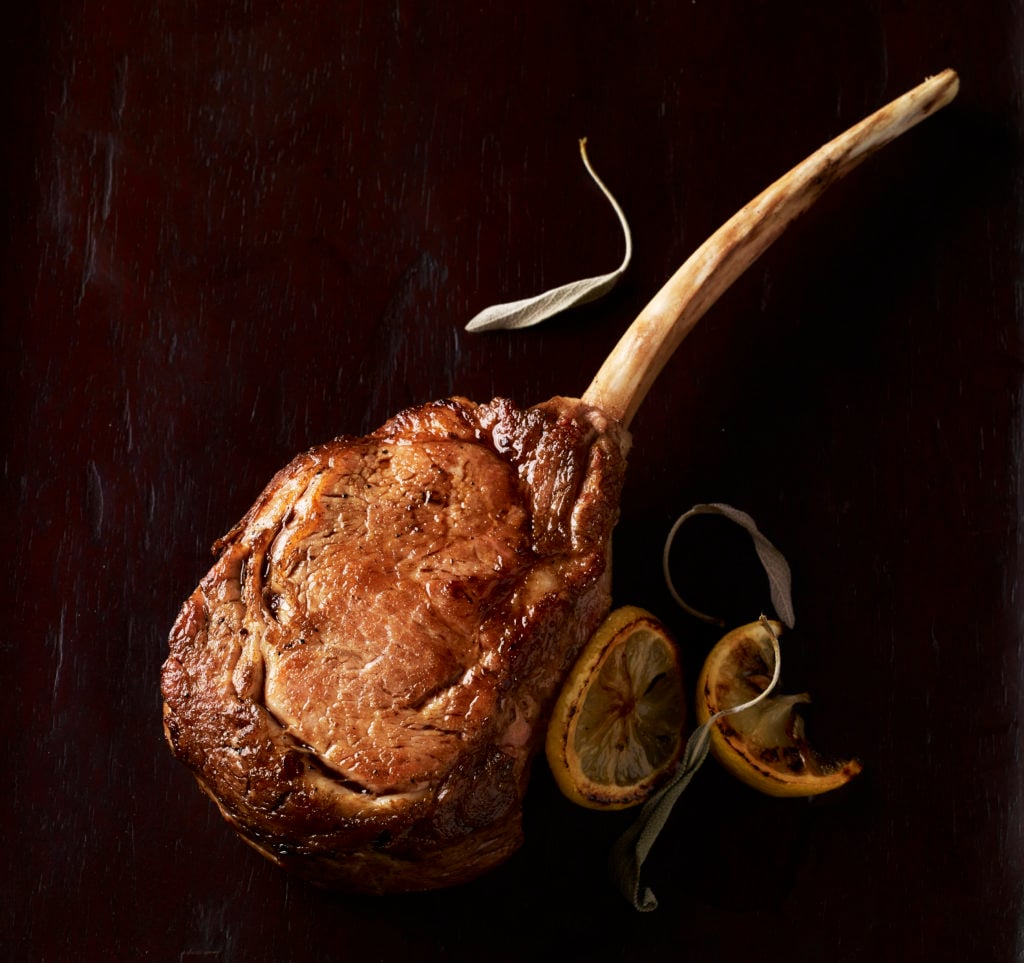 Stuffed Veal Chops with Fontina and Herb Butter
Ingredients
4 paper-thin slices bresaola, bündnerfleisch, or similar air-dried beef, optional
4 ounces Fontina Val d'Aosta, or similar semi-soft cheese, coarsely grated
All-purpose flour, for dredging
2 eggs, beaten
2/3 cup homemade dried bread crumbs
5 tablespoons unsalted butter, cut into pieces
2 tablespoons fresh flat-leaf parsley, finely chopped
1 teaspoon fresh sage, finely chopped
1/2 teaspoon fresh rosemary, finely chopped
1/2 teaspoon lemon zest, finely grated
Directions
Divide the bresaola (if using) between the pockets in each veal chop, laying the pieces as flat as possible. Divide the cheese between the chops, distributing it evenly. Preheat the oven to 175°F and put plates in the oven to warm.
Generously salt the veal chops on both sides, pressing the salt into the surface of the chops. Sprinkle chops with a generous grinding of black pepper. Place the flour, beaten eggs, and bread crumbs on separate wide-rimmed plates or bowls.
Dredge the chops in the flour, shaking off the excess. Dip both sides of the chops in the eggs, letting the excess run off, and transfer to the bowl of bread crumbs; thickly coat each side of the chops by firmly pushing the bread crumbs into the surfaces of each.
Heat the oil over medium-high heat in a skillet just large enough to contain the chops. When the oil is quite hot but not yet smoking, swirl it to evenly coat the skillet and add the chops.
Reduce the heat to medium-low and cook until deep golden brown on both sides and the cheese has melted, about 7 minutes per side for medium. (If you're unsure as to the degree of doneness, you can make a small cut and peek inside a chop.) Divide the chops between warmed serving plates.
Wipe out the skillet and return to medium-low heat. Add the butter, parsley, sage, rosemary, and lemon zest, swirling the skillet until the butter is melted and frothy, 20 to 30 seconds. Pour over the veal chops and serve.
Tip
Instead of making your own herbed butter, try our ready-made solution: Tuscan Herb Butter.
Watch "Big Meat Sunday" Make this Recipe
Watch as our friend John of the YouTube channel "Big Meat Sunday" shows you how to prepare this recipe.
What's your favorite meal for Valentine's Day? Have you ever made a stuffed chop before? What's your favorite decadent meal-for-two to prepare?