This Valentine's Day get your partner a gift you both can enjoy. We've put together a list of some of our favorite gifts that two can share!
1. Chateaubriand for Two
The 24-ounce Chateaubriand for Two is the perfect centerpiece for a cozy, romantic dinner.
 2. Porterhouse
Impressive is the first word that comes to mind when considering a Porterhouse steak. It's two steaks in one! With the center bone intact, Lobel's of New York USDA Prime Porterhouse combines a full portion of the filet and a full portion of the strip into an all-in-one steak—dry-aged to maximize its tenderness and flavor. You and your partner can each pick a steak, or you can share both portions!
3. Steak Knives
Lobel's Steak Knives are made in the tradition of the great German knife makers and are prized for their razor-sharp cutting edge, hand-forged quality, and balanced, ergonomic design.
Housed in an understated matte black presentation and storage box, these knives are ready for gift-giving. You and your partner can both enjoy slicing the best steaks with the best knives.
4. Double Boneless Strip for Two
Create a luxurious yet practically effortless Valentine's Day menu around the USDA Prime Dry-Aged Boneless Double Strip Steak for Two. Fine marbling, hearty flavor and a resilient, meaty bite are the hallmarks of what many call the "steak lover's" steak. At 30 ounces, this is the perfect steak for you and your loved one to share.
5. Sweetheart Steaks
When your goal is your honey's heart, Lobel's Sweetheart Steaks are the diamond lane to your destination. A Sweetheart Steak is a 20-ounce Boneless Strip Steak or Boneless Rib Steak butterflied into the shape of a heart. You both will fall more in love with every bite.
6. Cookbooks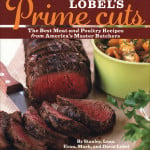 Give the gift of recipes to your favorite home chef by picking up one of the cookbooks authored by the Lobel family. You'll not only be able to select a delicious recipe for a romantic Valentine's Day dinner, you'll have a source for menu inspiration all year long.
7. London Broil for Two
An unforgettable cut exclusive to Lobel's, this Signature USDA Prime London Broil for Two is in a class of its own for exquisite flavor, tenderness, and texture. Broil or grill and then carve thin slices on the diagonal for serving.
What are your Valentine's Day Plans? Do you prefer going out for a fancy Valentine's Day dinner or staying in? What gift would you most like to receive on Valentine's Day?
Save