It is impressive to consider the myriad contributions the Lobels have made to the meat business in the last 30+ years. The Lobels are leaders and innovators in the world of meat, with an iconic New York butcher shop, a thriving online business, and a wealth of books, patents, and leadership positions in the industry.
We Wrote the Book
The Lobels' cookbooks encourage readers to be both knowledgeable and resourceful when it comes to meat preparation—with trademark emphasis on top quality—and provide a signature start-to-finish approach.
Meat (1971), the first and most traditional cookbook, is full of nostalgic recipes featuring meat as a main course. Meat guides the chef from the shopping through the cooking of the meat and sauce, with a slew of diagrams, suggestions, and tips along the way.
Old favorite recipes include "Roast Rack of Lamb with Marmalade," "Chicken Livers with Wine," and "Family Pot Roast," among many others.
Lobel's Prime Time Grilling: Recipes and Tips from America's #1 Butchers (2007)—an updated version of the 1999 edition—highlights the practicality of grilling in the modern era. The recipes in this book are categorized by type of meat—and the book dedicates an entire section to burgers.
Lobel's Prime Time Grilling sticks to conventional cuts, aimed at teaching the average American griller how to spice things up a bit. Recipes influenced from around the globe range from "South India-Style Lamb Kabobs" and "Mediterranean Grilled Chicken Salad" to "Sweet 'n Spicy Dry Rub."
Be sure to check out the "Cuts of Meat for Grilling" section in the back, with detailed diagrams and descriptive tables for quick and easy reference.
With Lobel's Prime Cuts: The Best Meat and Poultry Recipes from America's Master Butchers (2004), the Lobels offer contemporary recipes for fully formed meals, with meat and poultry sharing the spotlight with sides and slaws.
Ideal for a small Thanksgiving gathering is the "Maple-Glazed Turkey Breast with Corn Bread Stuffing." From Asian-inspired cuisine, with recipes like "Ginger and Green Onion Burgers Topped with Thai-Style Slaw," to the fresh take on a classic, "Grilled Citrus Rib Pork Chops with Grilled Asparagus and Herbed Rice Pilaf," the book guarantees something for everyone.
Lobel's Prime Cuts opens with "Practical Considerations," covering knives, cooking temperatures, and freezing, giving the reader a comprehensive lesson and ensuring smooth preparation.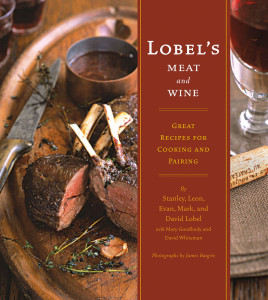 "Wine Notes" accompany recipes in Lobel's Meat and Wine: Great Recipes for Cooking and Pairing (2006). European-style dishes include "Rioja-Style Grilled Lamb Chops," "Chicken Gratin with Onion Sauce and Gruyère," and "Oven-Braised Beef Short Ribs with Black Pepper and Chianti."
The first chapter, "How to Choose Food-Friendly Wines," lays the groundwork, walking the reader through easy-to-understand guidelines and six components of wine relevant to food friendliness: acidity, alcohol content, sweetness, tannin, fruitiness, and oak. Lobel's Meat and Wine is a useful guidebook for the beginner through to the wine expert.
Lobel's Meat Bible: All You Need to Know about Meat and Poultry from America's Master Butchers (2009) features 135 recipes and thorough, informative overviews of different cuts at the start of each meat chapter. There are chapters dedicated to Beef, Veal, Pork, Lamb, Poultry & Rabbit, Game Birds and Game, Variety Meats, and lastly, Sauces, Chutneys, Condiments & Stocks.
Crowd-pleasers include "Lamb Tagine with Two Squashes, Apricots and Almonds," "Veal Scaloppine with Prosciutto and Sage," and "Chicken and Sausage Jambalaya." This meat textbook with mouthwatering photography would be a welcome addition to any meat-eater's shelf.
Culinary Contributions & Innovations
In addition to sharing their expertise in cookbooks, the Lobels are involved in organizations in the meat community.
Lobel's Prime Meats is a member of the Product Council for the National Cattleman's Beef Association (NCBA),  and family patriarch Stanley Lobel is on the Board of Trustees of the NCBA Foundation. He is also a Fellow at the Culinary Institute of America.
As a member of the NCBA Product Council, beef safety research is an area of focus for Stanley's youngest son, Mark Lobel. Mark has also served on the Board of Advisors of the University of Tennessee College of Veterinary Medicine for more than 15 years, attending meetings and offering advice and counsel.
Furthermore, Stanley Lobel's patents are a testament to the family's respect for beef and passion for butchering. The Lobels "Wrangler" steak cut comes from the beef chuck roll—a cut which Stanley Lobel first patented.
Stanley was granted "Butchering Processes for Meat Products," the patent for the chuck roll, a cut which weighs between 13 and 21 pounds and comes from the upper portion of the chuck, a frontquarter cut from the shoulder, upper ribs, and a portion of the neck and backbone. Stanley saw the opportunity to produce steaks from the chuck, which had been previously considered primarily for roasts or ground beef chuck.
In addition to the chuck roll patent, Stanley holds the patent for a mass-production butchering method for the beef shoulder, or clod, which comes from the beef chuck. The patent entitled "Butchering Processes for the Beef Clod," introduced a new direction to advantageously cut the chuck to produce beef shoulder. In his patents for the chuck roll and the beef shoulder, innovative Stanley presents numerous suggestions for the excess meat, from sandwich steaks and "shabu-shabu" to pot roasts and London broil.
Stanley Lobel, Leon Lobel, and Herbert Schachter also invented and patented a gravy separator, the "Liquid Separating Vessel."
Truly masters of their trade, the Lobels have inspired new perspectives on meat and butchering, always leading by example. After more than 175 years, Lobel's remains a favorite, respected institution of meat eaters near and far.