A really great sauce, stew, or soup takes some time to develop. Think of your favorite spaghetti sauce over a low-and-slow, steady simmer for hours upon hours. On the other hand, a rolling boil on high heat achieves the same objective in a matter of minutes when making a quick stove-top sauce.
Either way, the goal is evaporation. Getting rid of excess water naturally concentrates flavors lending depth and complexity, the foundations of a peak taste experience.
When it comes to beef, evaporation plays a crucial role in the dry-aging process. Over the course of the 6 weeks or so that Lobel's dry ages its USDA Prime, Natural Prime, and Wagyu Beef, the meat loses about 30% of its weight through water evaporation. During this time, the size of the piece of meat physically shrinks and the flavor of the beef concentrates into the buttery, nutty flavor that is the hallmark of Lobel's dry-aged beef.
Similarly, when you let a big pot of sauce, stock, or soup steam away, you'll notice that, over time, the volume of liquid shrinks and the surface level gets lower and lower in the pot.
The process of water evaporation and flavor concentration is known as reduction. And reduction is one of the most potent flavor-enhancing tools at any cook's disposal. It is natural thickening, as opposed to using such thickening agents as roux (flour and fat), corn starch, arrowroot, gelatin, or others. These thickeners affect the viscosity of a sauce, but do not enhance the flavor in any way close to the way a reduction intensifies flavors.
From doubling the creamy richness of an Alfredo sauce to a stock-based reduction sauce or a quick pan sauce, boiling away excess water increases the sauce's thickness. And just how thick should a sauce be? The standard measurement of ideal viscosity is when a sauce coats the back of a spoon when stirred. A further measure is to draw your finger against the back of the spoon creating a trail. If the trail remains clear, the sauce is done.
The French call this state of grace nappé. Spooning or pouring such a sauce over a sautéed piece of meat, poultry, or seafood is to nap the dish.
Glace: A Flavorful Secret Weapon
The most expeditious way to intensify flavor is with a glace—a reduction of soup stock to a honey-like consistency. Demi-glaces are glaces to which other flavorings have been added. Commercial glaces and demis are available in varietal flavors such as beef, chicken, lamb, and pork. Veal glace or demi-glace is often used for beef dishes.
A glace is stock that has been simmered and skimmed for hours to reduce it by 75 to 90% of its original volume. It is the ideal way to add big flavor without a large volume of liquid, which would require further reduction. So you get the benefits of reduction without all the work of having to do it yourself.
Bouillon powder or cubes run along the same lines in that they are concentrated flavors. However, bouillon is largely comprised of salt and fat and really bears little resemblance to an all-natural glace that is usually sodium-free and obtains its honest flavor from roasted animal bones, vegetables, seasonings, and nothing else. Furthermore, bouillon should not be reduced because of its high-sodium content which would concentrate even further and render the liquid unpalatable.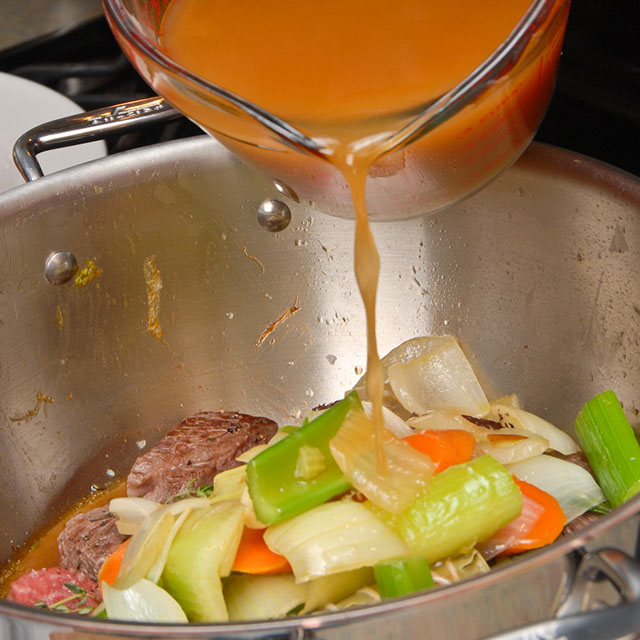 Pan or Reduction Sauce
A little goes a long way with glaces. A tablespoon or two to finish a pan sauce is all you need to expand a sauce to delicious new heights.
In a typical pan sauce, the meat or poultry is first sautéed and removed from the pan. The pan is then deglazed with wine to free all of the flavorful fond (browned bits) at the bottom of the pan. Generally, the wine is reduced to about half its volume.
Some glace or demi-glace is added to the pan to fortify the sauce and mix with the pan juices. A final pat or two of butter gives the sauce a glossy sheen and acts as a final binder to hold everything together.
Reconstituted
Glace or demi-glace can be also be added as is to soups and gravies for some extra flavor. And, in a total reverse, glace can be diluted in a 5:1 or 7:1 ratio to bring it back up to stock strength for an express route to homemade soups.
At this strength, the reconstituted glace is an ideal liquid for use in braises and stews, or in the bottom of your roasting pan, or any other typical use for a well-flavored stock.
Do you make your own glace or buy it? What's your favorite type of glace to have on-hand? What is your favorite use for glace? Do you reconstitute it for stock?