October 4th is National Taco Day. Not only that, but National Taco Day also falls on a Tuesday this year, making it a Super Taco Tuesday! How much do you know about everyone's favorite Tuesday-night, build-your-own, family dinner dish?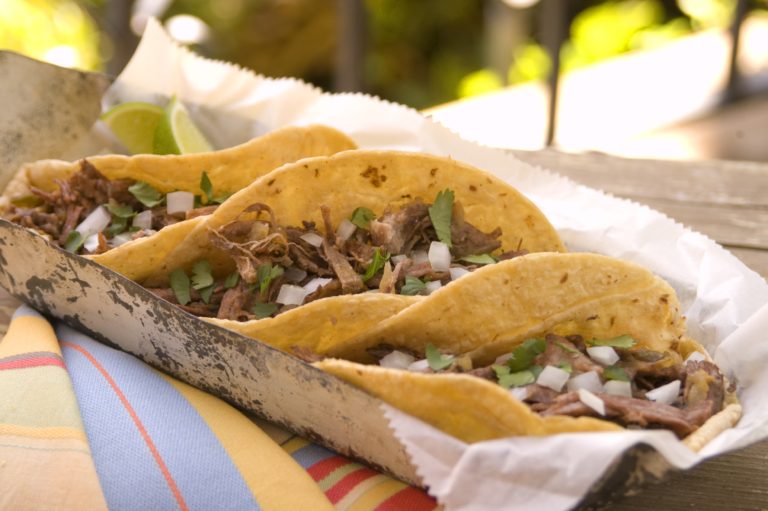 Explosive Origins of the Taco
How much do Americans love tacos? According to NationalTacoDay.com, "last year Americans ate over 4.5 billion tacos! That's 490,000 miles of tacos, which could take you to the moon and back."
But tacos weren't always so ubiquitous in the United States. They are actually a relatively recent addition to our nation's cuisine, with now-nationwide fast-food taco chain Taco Bell having been established in 1962 and reports of one of the first taco trucks in New York doing catering in 1966.
Of course, tacos have been around longer than that. Hailing from Mexico, the dish's name is said to originate from the explosives used in silver mines in the 18th century. Miners would wrap gunpowder in paper—not unlike meat stuffed in a tortilla—then stuff the little bundles into the rock-face to expose and excavate the ore.
According to a Smithosian.com interview with Jeffrey M. Pilcher, author of Planet Taco: A Global History of Mexican Food (Oxford University Press) and The Oxford Handbook of Food History, "The first references [to the taco] in any sort of archive or dictionary come from the end of the 19th century. And one of the first types of tacos described is called tacos de minero—miner's tacos."
Historical evidence indicates that taco consumption pre-dated this written account, though. According to NationalTacoDay.com, "Anthropologists say there is evidence suggesting inhabitants of the lake region of the Valley of Mexico ate tacos filled with small fish."
Street Food, Elevated
Tacos were originally a more common "street food" consumed by the working class. It was a quick and cheap food, available from street vendors or taquerías. Of course, regional variations and flavors abound, and the industrial era brought all those rural, regional variants into the eateries of the big cities to fuel workers during their long days.
Glen Bell, founder of Taco Bell, is often credited with familiarizing the general American public with this dish from across the border. Though today, tacos can be found in more than just fast-food restaurants. From casual to finer establishments, traditional tacos and creative fusion tacos are welcome menu selections.
Tacos can be filled with any sort of protein, including steak, ground beef, barbecued beef, barbecued pork, shrimp, fish, and even organ meats such as brain, tongue, and tripe. The tortilla that encases the taco is usually made from flour or corn and can be soft or fried so that it forms a crispy U-shaped receptacle. Toppings run the gamut: cheese, onions, salsa, avocado, guacamole, sour cream, peppers—whatever you can dream up to suit your taco to your liking.
What's your favorite taco filling? What do you top it with? Do you go hard-shell or soft-shell?
Sources:
http://www.smithsonianmag.com/arts-culture/where-did-the-taco-come-from-81228162/
https://priceonomics.com/the-trademarking-of-taco-tuesday/
https://en.wikipedia.org/wiki/Taco
http://www.nationaltacoday.com/
https://en.wikipedia.org/wiki/Taco_Bell
Save
Save
Save
Save
Save
Save
Save