It's a holiday that only comes around every four years: National Surf and Turf Day is February 29! Surf and turf, surf 'n turf, beef and reef, pier 'n steer, or whatever variation you might call it, this center-of-the-plate combination of beef raised on land and treasures from the sea is a fairly recent classic. It's also a culinary playground for the curious epicurean.
Variations abound, but the most frequently found components are lobster and filet mignon.
No clear origin of the term surf and turf is commonly accepted, but at least two contenders are in the running. And, although attributions differ, the one thing they are close in agreement about is the approximate timing of the term's coinage.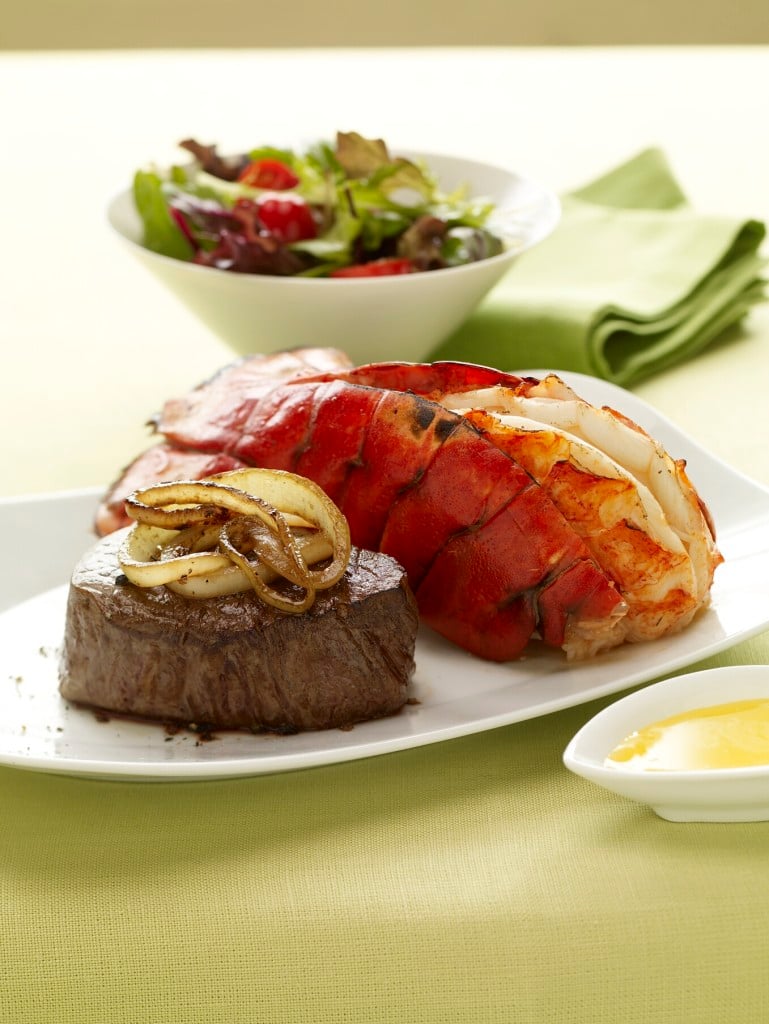 One source, roadside-warriors and chroniclers Jane and Micheal Stern, point to a 1966 Miami news story asserting that the dish was first served in the Seattle Space Needle's restaurant, Sky City, during the 1962 World's Fair.
According to the Sterns, the dish became the symbol of conspicuous consumption. They refer to it as a "hedonistic extravagance" because it combines the two most expensive menu items into a single course.
The first use of the term in print advertising appears to be an ad that ran in The Lowell Sun (Lowell, MA) for the Continental Restaurant, also in 1966.
The restaurant menu labeled it the "Champagne Dinner – Surf 'N Turf (A Continental Original)." This seven-course house specialty was considerably more elaborate than today's more simplified version. At the Continental, the combination included a filet mignon, baked stuffed Alaskan crab legs, and an escalope of halibut in rich lobster Newburg sauce.
And back then, that Continental feast would have set you back—with drinks—the stunning sum of $4.95. Even then, that would have been considered a down-market price targeted to youthful customers on a budget.
And that's not all! Other citations concurrently assert that the name can be traced to various restaurants in New York, New Jersey, California, and Oregon. Nowadays, surf and turf can be found readily in American steakhouses, as well as British and Irish pubs in North America where it typically includes lobster, Dublin Bay prawn, or shrimp.
In the heart of Dublin, Ireland, tucked away in a residential neighborhood not far from the Guinness factory, a tiny upper-story restaurant with a long-forgotten name once celebrated the pairing of meat and seafood in a quietly elegant sort of way.
When ordering the house specialty of surf and turf, the diner was first presented with a large silver tray filled with samples of the day's fresh seafood caught in coastal and inland waters—from lobster and prawns to scallops, salmon, and sole. Then came a comparably sized tray of your choices from the land. This include several cuts of steak—a magnificent 16-ounce filet mignon, a cote de boeuf for two (rib), and sirloin—as well as rack of lamb and double-thick pork Porterhouse chops. Everything that could be was grilled over a roaring wood fire.
You can try your own variations on this theme at home. To contrast the ocean-fresh flavor of most fish and shellfish, a tender, juicy, and beefy cut of steak opens up a world of possibilities and combinations.
When preparing your own surf and turf at home, you can simplify things by using a lobster tail instead of a whole lobster. A meaty Maine lobster tail pairs well with beef because of its firm texture and sweet tail meat.
When you can find them, head-on or not, giant prawns from India, Ireland, Southeast Asia, and elsewhere are an over-the-top seafood experience. And when we say giant, we mean the kind that are 2 to 3 per pound. Just split them down the middle, remove the main vein, slather them with butter and throw them on the grill or into a broiler for a few minutes.
The richness of grilled sea bass, escolar, and when it is in season, fresh sockeye salmon are all admirable selections for pairing with beef.
And, if you want something right out of the mid-60s era as well, you couldn't do any better than the oh-so creamy Coquilles St. Jacques—scallops baked (preferably in a real scallop shell) in a Mornay sauce enriched with Swiss cheese and mushrooms.
When considering steak options, filet is the obvious choice. Keep in mind, however, that steak has many flavors and you may want to vary the amount of beefiness in your cut to best complement your seafood choice.
For example, filet and tenderloin steaks have a mildly beefy flavor, rib steak has more beefiness, and strip and sirloin even more than that. Among the beefiest tasting cuts are hanger and skirt steak.
For example, when pairing steak with a full-flavored and well-marbled salmon filet, you want a beef selection that can stand up to the robust flavors. On the other hand, the richness of Coquilles St. Jacques is perfectly complemented by a cut of less richness, such as filet or tenderloin steaks.
As they say: The sky's the limit. Celebrate your National Surf and Turf Day in culinary style.