Butter makes everything better, right? Spreading some on a freshly baked roll, adding a pat to a muffin that's hot out of the oven, slathering it on toasted cornbread—or just about any baked good.
Did you know you can even make butter better? Try making a compound butter. You might have tasted a delicious concoction in some form or another at a restaurant. Compound butter is very simple, butter with a few additional ingredients that can enhance the flavor of whatever you're making.
Think it would be too difficult to create at home? It's not!
Ingredients
You can pretty much add any of your favorite ingredients or flavor combinations to compound butter.
For savory compound butters, try shallots and chives, bacon and blue cheese, lemon, pepper, porcini mushrooms and sage, gorgonzola and scallions, sun-dried tomatoes, or even sriracha sauce.
For sweet compound butters, try strawberry and vanilla, maple and pecans, sea salt and caramel, pineapple, cinnamon and sugar, peach and honey, or even red wine.
For this tutorial, we'll be making a garlic and herb compound butter.
2 sticks (1 cup) unsalted butter
2 cloves garlic
1 tablespoon sage
1 tablespoon fresh rosemary
1 tablespoon fresh thyme
Tools
Large bowl, wooden spoon, spatula, and plastic wrap (not pictured).
Directions
Begin by bringing the butter to room temperature. This is an important step so the butter incorporates well with the other ingredients.
Smash the garlic cloves and finely chop. Chop your herbs right before you're ready to create your compound butter. The flavor is heightened when freshly chopped.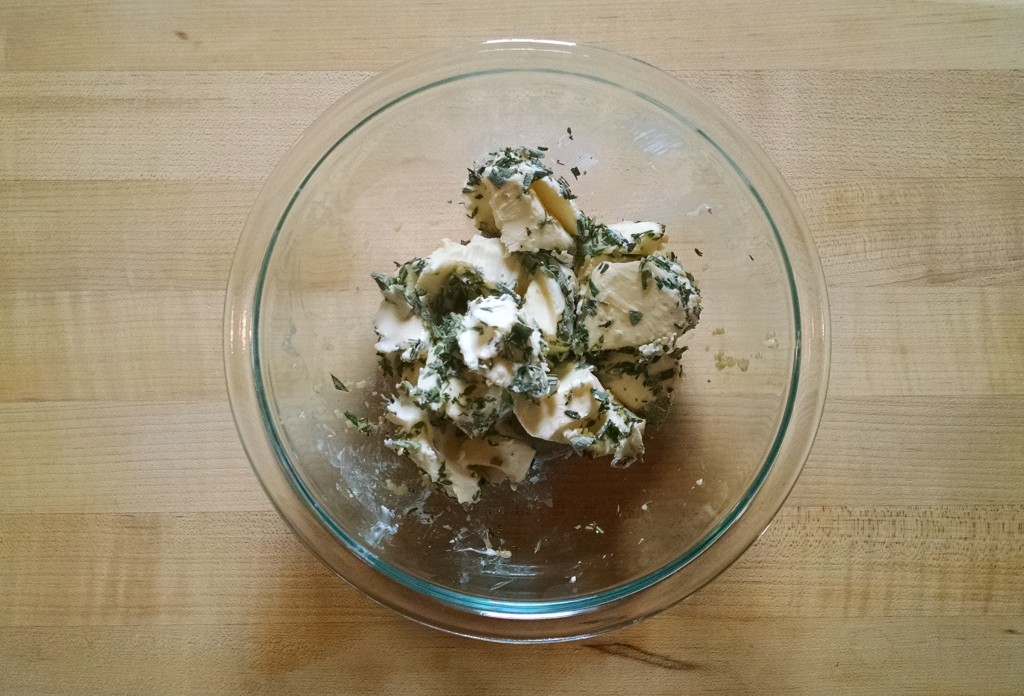 Combine all of your ingredients in a bowl and incorporate well with a wooden spoon or, if you like, a hand or stand mixer with the paddle attachment. Or even use your hands as Evan Lobel does!
Once well mixed, tear off a piece of plastic wrap and spread out over a flat surface. Spoon your compound butter into the center of the plastic wrap. Use the spatula to get all the gooey goodness from the bowl.
Pull up one end of the plastic wrap and form into a log. Twist the ends to store.
Place in your refrigerator to set for at least a half-hour before slicing into coins for an impressive presentation.
The butter should be used within a week of making if you're storing in your refrigerator. You can also freeze it until you are ready to use it. Store in your freezer for up to a month.
Uses
Add a dollop of your compound butter on top of freshly cooked steaks—add it right before serving for a great flavor boost. Top your favorite burger with a bit of butter for a garlic-herb burger. Not only will this compound butter work well with beef, try it on lamb, pork, veal, and poultry.
Is your oven-roasted turkey or chicken dry? Try this incredible tip to make the most succulent oven-roasted turkey for Thanksgiving!
Finish your favorite pan sauce with compound butter instead of plain butter. You'll have the same velvety texture for your sauce, but with enhanced flavor.
Baked or mashed potatoes will be taken to the next level with some compound butter too. Try it on corn on the cob.
Use your imagination for some really good eats.
Tip: Compound butters make creative homemade gifts. Once set in the refrigerator, wrap the compound butter log in kraft paper and tie the ends with twine for a unique and thoughtful gift!
Have you ever made compound butter before? If you have, what's your favorite flavor? If you haven't what flavor would you want to try? How do you use compound butter?
Pin me: