The Lobel family of Lobel's Prime Meats in Manhattan and Lobel's of New York online butcher shop are fourth- and fifth-generation butchers. With our Cut of the Month series, we will bring you their wealth of knowledge and expertise on specific cuts of meat, including their unique characteristics, preparation methods, and how to select the best cut.
It's not every day that a new steak comes along. There are, after all, only so many muscles in a cow. However, if you check the encyclopedic MEAT by the Lobels, which was published in 1971, you'll find no mention of flat iron steak.
Fast-forward to the publication of Lobel's Meat Bible in 2009 and you'll find the flat iron right there on page 21. Plus, there's a delicious recipe for Flat Iron Steaks with Roasted Red Pepper Butter on page 38.
So, where did this steak come from?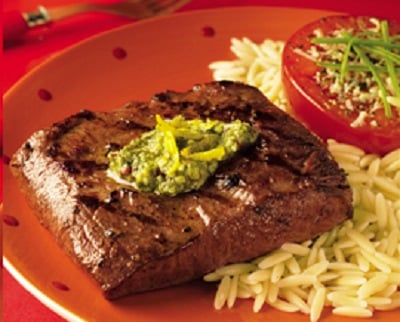 The Discovery of a Steak
In 2002, experts from University of Florida and University of Nebraska conducted research that evaluated  undervalued cuts of meat to discover innovative ways to cut existing beef primals.
They discovered this gem lying deep within the shoulder muscle that, when cut correctly, yielded this wonderfully beefy and delicious steak.
Flat iron steaks started to gain visibility in 2005 and gained mainstream popularity in 2008. Today, it is a popular and well known cut commonly found in grocery stores, butcher shops, and restaurants.
What's in a Name?
The flat iron steak is purportedly so named because it's shape resembles that of an old fashioned metal clothes iron.
Know as flat iron steak in the United States, this cut can also be called chuck top blade, boneless top blade, or shoulder top blade. It's also knows in the United Kingdom as butlers' steak and in Australia and New Zealand as oyster blade steak.
Preparing Flat Iron
This popular steak is considered a "value cut" that we find does well when braised. For a palatable texture, its center vein should be removed, which the butcher will do for you. but if it's not removed, the vein will soften during slow, moist cooking and the meat will develop really good flavor. It is also very good grilled.
Have you tried Flat Iron Steak? Do you grill or braise it? What's your favorite way to prepare flat iron?