A braised brisket is the epitome of family-centered feasts. Imagine sitting down with your family and friends amidst the heady aroma of a meal that is the very essence of comfort food, community, and connections.
A big platter of tender meat surrounded by aromatic vegetables is no single-serve enterprise, braised dishes are meant to be consumed around a communal table with banter and lively conversation.
Stanley Lobel claims, "Nothing says family supper like a brisket braised with carrots, potatoes, onions, and garlic".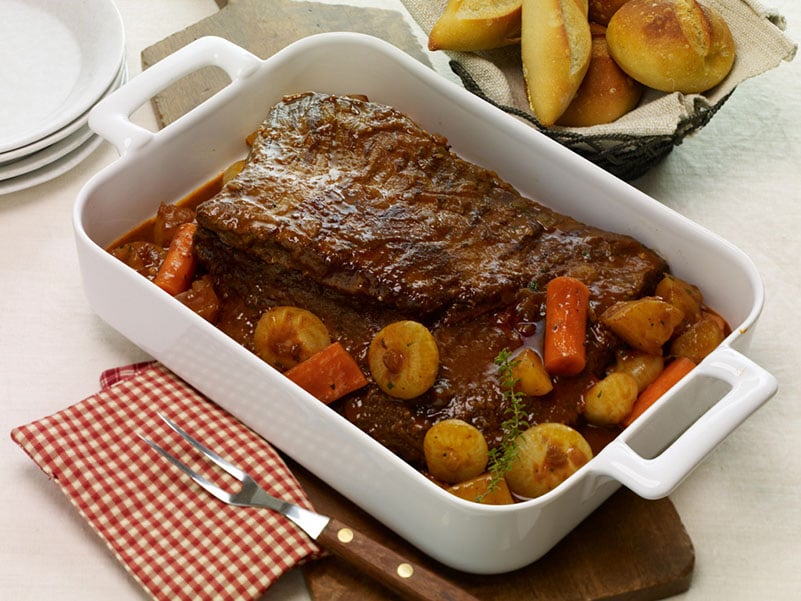 Ingredients
1/4 cup light brown sugar
2 Tbsp. kosher salt
1 tsp. garlic powder
1 tsp. cayenne pepper, or more to taste 1 tsp. sweet paprika
1 tsp. coarsely ground black pepper
1/2 tsp. cinnamon
1/2 tsp. unsweetened cocoa powder
1/2 tsp. ground coriander
1/2 tsp. white pepper, freshly ground
1 (5 lb.) brisket
3 Tbsp. vegetable oil
4 large onions, sliced
1/2 inch thick
2 lbs. carrots, cut diagonally 1/8 inch thick
2 cups cola
1 (23 oz.) can crushed tomatoes
1/4 cup ketchup
4 large onions, sliced 1/2 inch thick
Directions
In a bowl, mix the brown sugar, salt, garlic powder, cayenne, paprika, black pepper, cinnamon, cocoa, coriander, and white pepper. Rub the mixture all over the brisket, set in a baking dish, and cover with foil. Refrigerate overnight.
Preheat the oven to 350°F. In a large, enameled, cast-iron casserole, heat the oil over medium-high heat on stove top. Add the brisket, fat side down, and brown 6 minutes per side. Transfer to a plate.
Reduce heat to medium and add onions. Stir well. Cover and cook, occasionally stirring, until softened, about 15 minutes. Add the carrots, cover and cook, occasionally stirring until the carrots begin to soften, about 3 minutes. Transfer to a bowl.
Add the cola, tomatoes, and ketchup to the casserole and stir over medium heat. Add the brisket and any juices, and spread the onions and carrots around the meat. If necessary, add enough water to half-submerge the brisket in liquid. Cover tightly and braise in the oven for 2 1/2 hours.
Transfer the brisket to a cutting board, cover with foil, and let stand for 30 minutes. Raise the oven temperature to 425°F. Slice the meat across the grain 1/4 inch thick, return to the casserole, and spoon the sauce over the meat.
Return the casserole to the oven and cook uncovered for 1 hour, or until the meat is fork-tender. Check every 20 minutes, and if necessary, add water so the meat is half submerged. Remove from the oven and let stand for 15 minutes. Transfer the meat to a platter, spoon the onions, carrots, and sauce over the brisket and serve.
What is your favorite brisket recipe? What dish do you serve at a family-centered feast? What is your favorite comfort food meal? Do you serve brisket for a holiday meal?