Do you know the secret to the perfect barbequed brisket? Well, we can tell you.
It's hand-rubbed with black pepper, marjoram, brown sugar, and a blend of herbs and seasonings. It's bathed in a spicy, vinegary mopping sauce. It's smoked low and slow for 14 hours or more over mesquite and apple wood.
And it's unbelievably, melt-in-your-mouth delicious.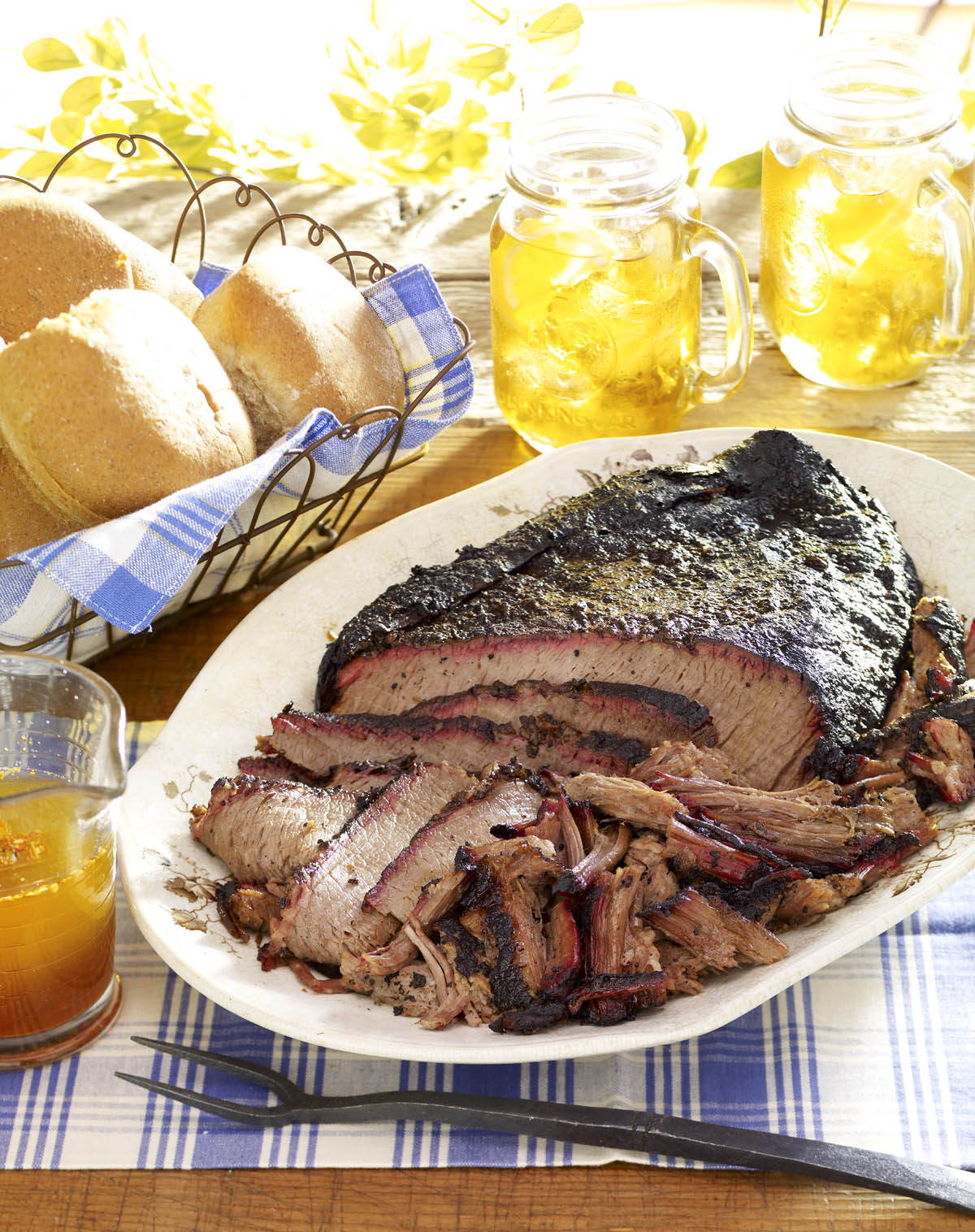 Over the years, we've participated in a number of food and wine shows and events, and we've fed hundreds if not thousands of hungry foodies. The one thing we can serve to a big crowd that we know will be a show-stopper is our barbequed brisket.
The hefty size of the brisket makes it perfect for feeding the multitudes, while low-and-slow cooking is great for cooking ahead, and using Wagyu beef ensures that you'll have moist, tender meat ready to be devoured.
In fact, here are some of the things we've overheard during tastings:
"My husband and I are from Texas, so we know brisket…  (Skeptically takes a bite.) Honey, come over here, you've got to try this!"
"You mean it will taste just like this when I make it at home? Oh, man!"
"Aw, the brisket is all gone? Can I lick the cutting board?"
So are you ready to experience this barbeque revelation for yourself? Here's how.
Cooking method: Smoking
We like to serve our BBQ Prime Beef Brisket  with a side of fresh, crunchy slaw. We mound the brisket up on a bun then splash it with this mopping—the same sauce it's bathed in while smoking—to add the finishing touch.
Ingredients
2 Wagyu Beef Briskets, about 9 lbs. each
Mopping Sauce
4 cups apple cider vinegar
2 cups water
1/4 cup Worcestershire sauce
1/4 cup Kosher salt
1/4 cup black pepper, freshly ground
1/4 cup vegetable oil
Sweet 'n Spicy Dry Rub
1/4 cup dark brown sugar
1/4 cup minced garlic
1/4 cup dried marjoram
1/4 cup Kosher salt
1/4 cup pepper, freshly ground
2 tbsp. ground cayenne pepper
1 tbsp. allspice
Directions
1. For the mopping sauce: Combine all ingredients in a blender or food processor, and pulse until mixed thoroughly.
2. For the dry rub: Combine all ingredients in a blender or food processor, and pulse until mixed thoroughly.
3. Rub all sides of the brisket with Sweet 'n Spicy Dry Rub. Set aside at room temperature for 2 hours.
4. Prepare your smoker according to manufacturer's directions. Smoke for 12 to 14 hours or until buttery, maintaining a temperature of 200°–220°F. (When we prepared this at the Aspen Food & Wine Classic, we used a combination of mesquite and apple wood for smoking.)
5. Baste every 20 to 30 minutes with mopping sauce.
6. To serve, slice brisket across grain. Cut on the bias for wider slices. Top with a splash of the mopping sauce.
Have you ever smoked your own brisket? What's your secret ingredient or technique?