Do you find yourself using the same spices and herbs over and over again? Want to get exotic? You don't have to fly around the planet to get that experience. You can do it right in your own kitchen. With Spice Explorer, we're taking you on a trip, a journey of palate-pleasing discoveries. Every culture has certain flavor characteristics that make its cuisine unique, distinctive, identifiable. Inject your cooking with new life and new flavors from around the world with Lobel's Spice Explorer. Buckle up! Here we go!
Building Aroma and Flavor: Bouquet Garni
Bouquet garni is a bundle of fresh or dried herbs that is used to flavor a wide variety of dishes, from soups, stews, braises, sauces, and much more. These herbal accents are very identifiable and bring a depth of flavor and interest to every dish.
Rather than putting whole, fresh herbs loosely into a dish, bouquet garni allows you to infuse all the herbaceous goodness without the hassle of hunting to retrieve the stems and leaves when the dish has finished cooking.
French in origin, bouquet garni translates to "garnished bouquet." Its original ingredients were one sprig of thyme, one sprig of parsley, and one bay leaf. However, there's no need to stand on tradition when you are creating your own delectable masterpiece. Any aromatic herbs and spices can be brought together to create a bouquet garni of your own making, depending on the dish you are cooking.
How to Make Bouquet Garni
Bouquet garni can be made with either fresh or dried herbs and spices.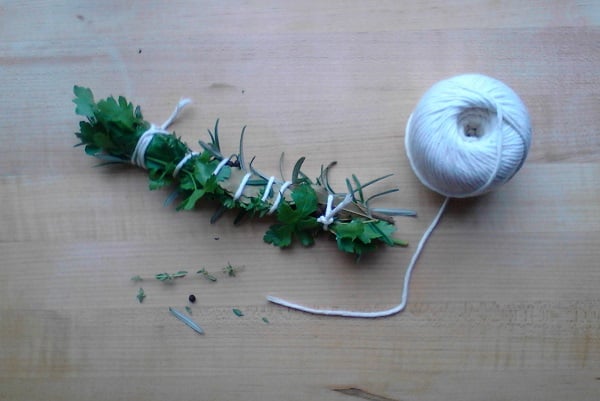 To make it fresh, gather together your ingredients and tie them up with butcher's twine.
Alternatively, cut a square of cheesecloth, lay the herbs on it and then gather the corners together and tie securely. This is also the best method when using dried herb. When using dried herbs, just remember to use a double thickness of cheesecloth to keep them from seeping through the cloth.
You can also use muslin bouquet garni sachets that have an integrated drawstring. These can be found in kitchen shops or online and make assembly and retrieval simple and easy.
In a pinch, trying using a tea infuser or even a coffee filter to hold all the herbs and spices together.
For more information on how to create a bouquet garni, see our Culinary DIY: Bouquet Garni photo tutorial.
What are your favorite ways to use bouquet garni? Do you prefer using fresh or dried herbs?