Do you find yourself using the same spices and herbs over and over again? Want to get exotic? You don't have to fly around the planet to get that experience. You can do it right in your own kitchen. With Spice Explorer, we're taking you on a trip, a journey of palate-pleasing discoveries. Every culture has certain flavor characteristics that make its cuisine unique, distinctive, identifiable. Inject your cooking with new life and new flavors from around the world with Lobel's Spice Explorer. Buckle up! Here we go!
Home Savory Home: Poultry Seasoning
Each of our brains is wired to make strong associations among smell, memory, and emotion. In part, we develop these associations at a young age when we experience things for the first time. It is a powerful force that can instantaneously transport us out of the moment.
You could be anywhere at any time, and in the blink of an eye, you smell something wafting through the air … it is familiar … you are a kid again … and you feel all warm and fuzzy … or it could strike fear in your heart.

For example, the smell of hot popcorn might trigger one person to recall strolling through an outdoor festival which engenders feelings of excitement or contentment—and a longing for the good old days. And to another, the smell of popcorn might bring to mind the movie theater—the memories and thrills of seeing Ben Hur, Fantasia, or Star Wars flashing across the big, silver screen.
Now think, for example, about the aroma of a pumpkin pie baking. What comes to mind? Most likely, it takes you to Thanksgiving, triggering feelings of warmth and of sharing a communal table with family.
More often than not, the aroma of a roasting turkey and stuffing would leap to the forefront and take us to Thanksgiving celebrations of years past. And the smell responsible for that association, those feelings, those memories come from poultry seasoning.
Where Does It Come From?
Like gumbo and chili, the ingredients in poultry seasoning can vary widely. But most recipes are big on savory, warm, herbal components, such as sage, thyme, and marjoram.
One of the most commercially available varieties is Bell's Seasoning, created by America's oldest spice purveyor, William Bell of Boston, MA, back in 1867.
Easily distinguished in the supermarket spice aisle by its colorful box design, Bell's Seasoning contains rosemary, oregano, sage, ginger, and marjoram. The secret recipe is unchanged from the original. And while poultry seasoning most often finds itself in turkey stuffing/dressing, it is a great addition to soups, stews, rice and potato dishes, and much more.
Today many variations abound from versions produced by major spice companies all the way to small-batch artisan blends that are available regionally.
How to Make Your Own
If you like to be original, create your own poultry seasoning. Start by taking a look at your pantry spice rack. Chances are you have the basic components already. That means you can start with a blank canvas to create your own unique blend. This chart brings it all together by illustrating the best spices and herbs to use when seasoning poultry. Just match the chart with what's in your cupboard and you are on your way.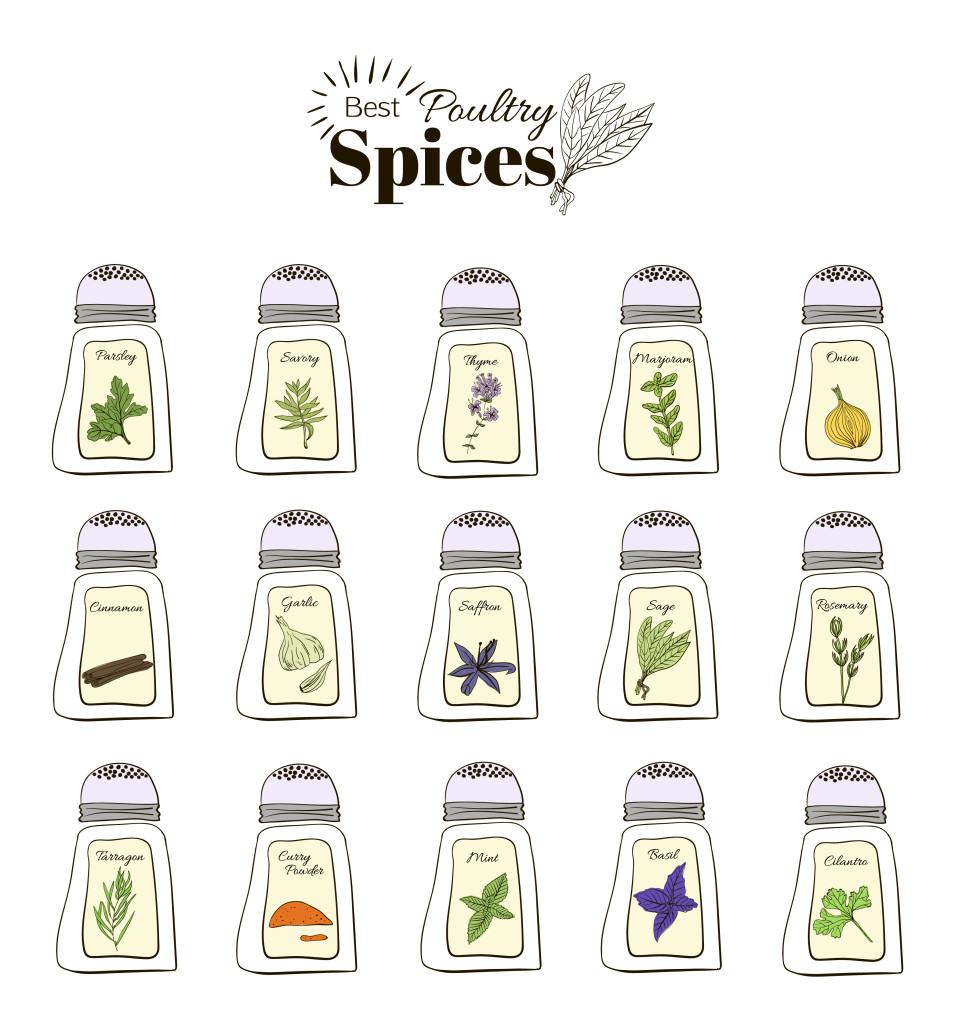 One noteworthy element about many poultry seasoning recipes is the inclusion of a spice that brings a twist to the mix. In addition to such standard spices as sage and marjoram, most recipes include a spice that is out of the savory range, for example, nutmeg, ginger, or allspice.
On the other hand, you could always fire up Google and query for poultry seasoning recipes. You'll find a lot of them. It's best to read through 5-6 variations to determine which one or combination appeals to your sense of taste most.
Poultry Seasoning: Recipes
Here are a few recipes to get you started:
From allrecipes.com, this recipe has all the classic components, plus ground nutmeg.
This classic is given a lift of celery seed:
This recipe from Saveur Magazine brings many of the brighter, sweeter flavors altogether, including smoked paprika, with the savory herbs.
What do you use to flavor your stuffing? Do you buy or make your own poultry seasoning? What are your favorite uses of poultry seasoning, besides stuffing? What herbal accents do you prefer in poultry seasoning?