This year, in celebration of our 175th anniversary, we've expanded our product offerings with the introduction of a new line of four all-natural, preservative-free seasonings and sauces for meats. The new products include Lobel's BBQ Sauce, Lobel's All-Purpose Savory Seasoning, Lobel's Steak Sauce, and Lobel's New York Marinade.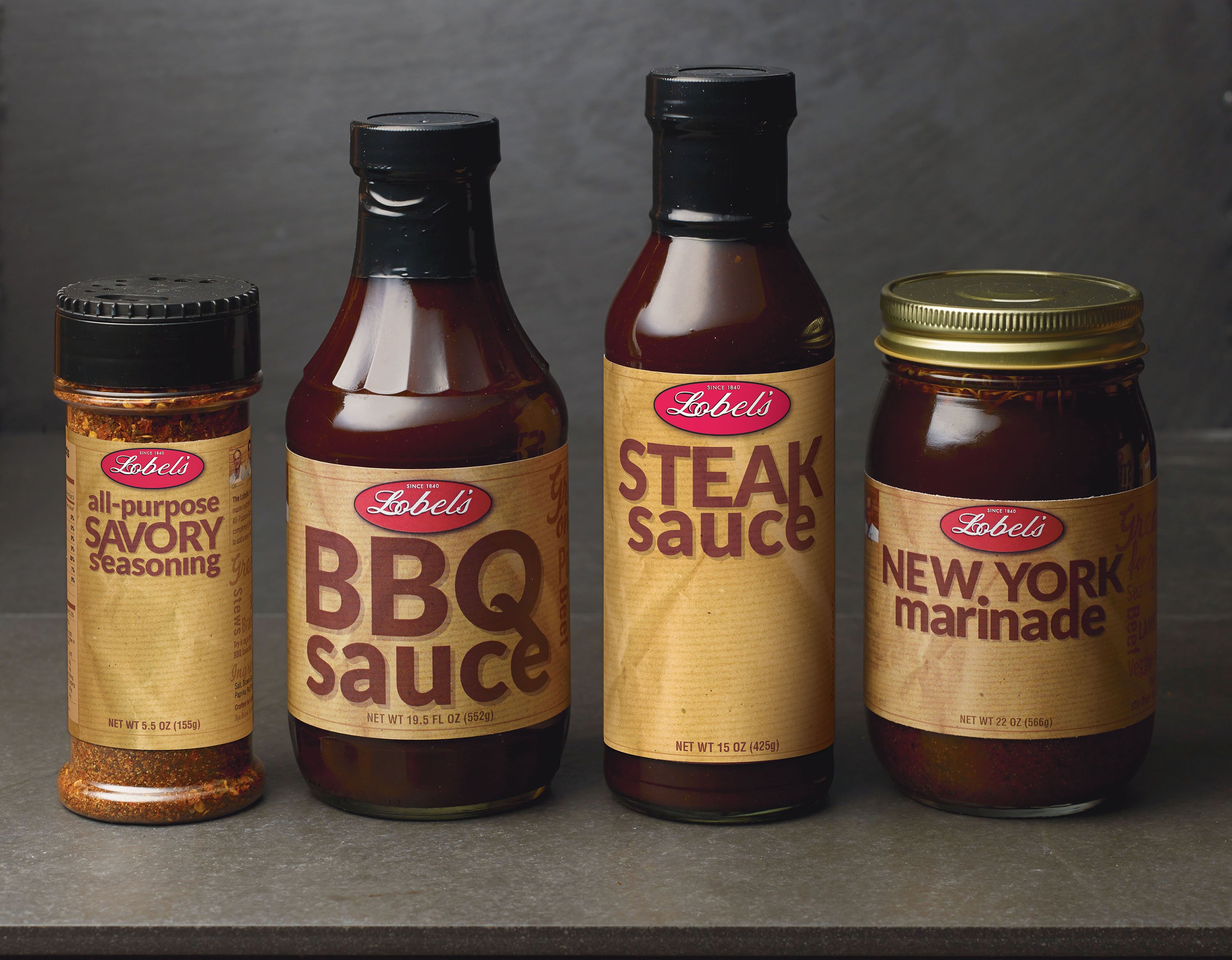 We're shining a spotlight this month on Lobel's New York Marinade. Just as the Big Apple is a melting pot of cross-cultural influences, Lobel's New York Marinade is a cornucopia of subtleties and influences.
About Lobel's New York Marinade
While our marinade demonstrates a pronounced East-West vibe with a hint of teriyaki and a breath of Mediterranean all in one, its flavor components shift emphasis depending on what it is bathing to bring out the very best of every type of meat, poultry, seafood, or veggie.
Made from Lobel family recipes, all four of our new seasonings and sauces complement a variety of meats and draw on five generations of Lobel family expertise with fine meats. They are free of preservatives, artificial flavors, sweeteners and colors, and they contain no GMOs.
"These are recipes we've developed over many years for preparing and serving with fine meats. They are uniquely Lobel's," noted Stanley Lobel, co-owner of Lobel's and a co-author of nine books on meat and cooking.  "They were made to be versatile with a wide variety of meats, and we focused on true flavors without all the preservatives and extra ingredients. It was very important to us, as experts in fine meat, to create seasonings and sauces that did not take away from the flavor of the meat but that complemented it."
Tips & Tasting Notes from the Lobels
We asked the Lobel's to tell us what they love most about their signature marinade.
Stanley Lobel: "This is a new recipe we have come up with. It's unique and different. It enhances taste, and it adds flavor and tenderness to whatever it's used on. I've never seen another marinade like ours. I like to use this marinade on steak, rack of lamb, and veal chops. You can use it throughout the cooking process or just add it at the end to inject flavor and get a crispy finish."
David Lobel: "My favorite use for this marinade is on beef or lamb kabobs. Marinate them overnight and the flavor just explodes in your mouth—but it doesn't overpower the inherent flavor of the meat. It's really unique and wonderful to cook with."
Mark Lobel: "I love this marinade. I think it's new and exciting. It has such a great combination of flavors. I love it for kabobs—especially chicken kabobs. It caramelizes nicely on whatever you use it. I would recommend marinating for 6 hours. You could even marinate overnight if you have the time."
Evan Lobel: "This is a great marinade for barbecues and outdoor cooking. I like the hint of sweetness and depth the molasses brings to the marinade. It pairs well with lamb or pork chops, beef, chicken kabobs, and London broil. If you don't have a lot of time, you can marinade the meat unrefrigerated for up to an hour."
Watch it in Action!
We sent a jar of Lobel's New York Marinade to our friend Troy at T-Roy Cooks–check out what he came up with.
Grilled Flat Iron Steak
Grilled Skirt Steak with Gorgonzola Cream Sauce Recipe
Have you tried Lobel's New York Marinade? What is your favorite cut to marinate? What would you marinate in Lobel's New York Marinade?