This year, in celebration of our 175th anniversary, we've expanded our product offerings with the introduction of a new line of four all-natural, preservative-free seasonings and sauces for meats. The new products include Lobel's BBQ Sauce, Lobel's All-Purpose Savory Seasoning, Lobel's Steak Sauce, and Lobel's New York Marinade.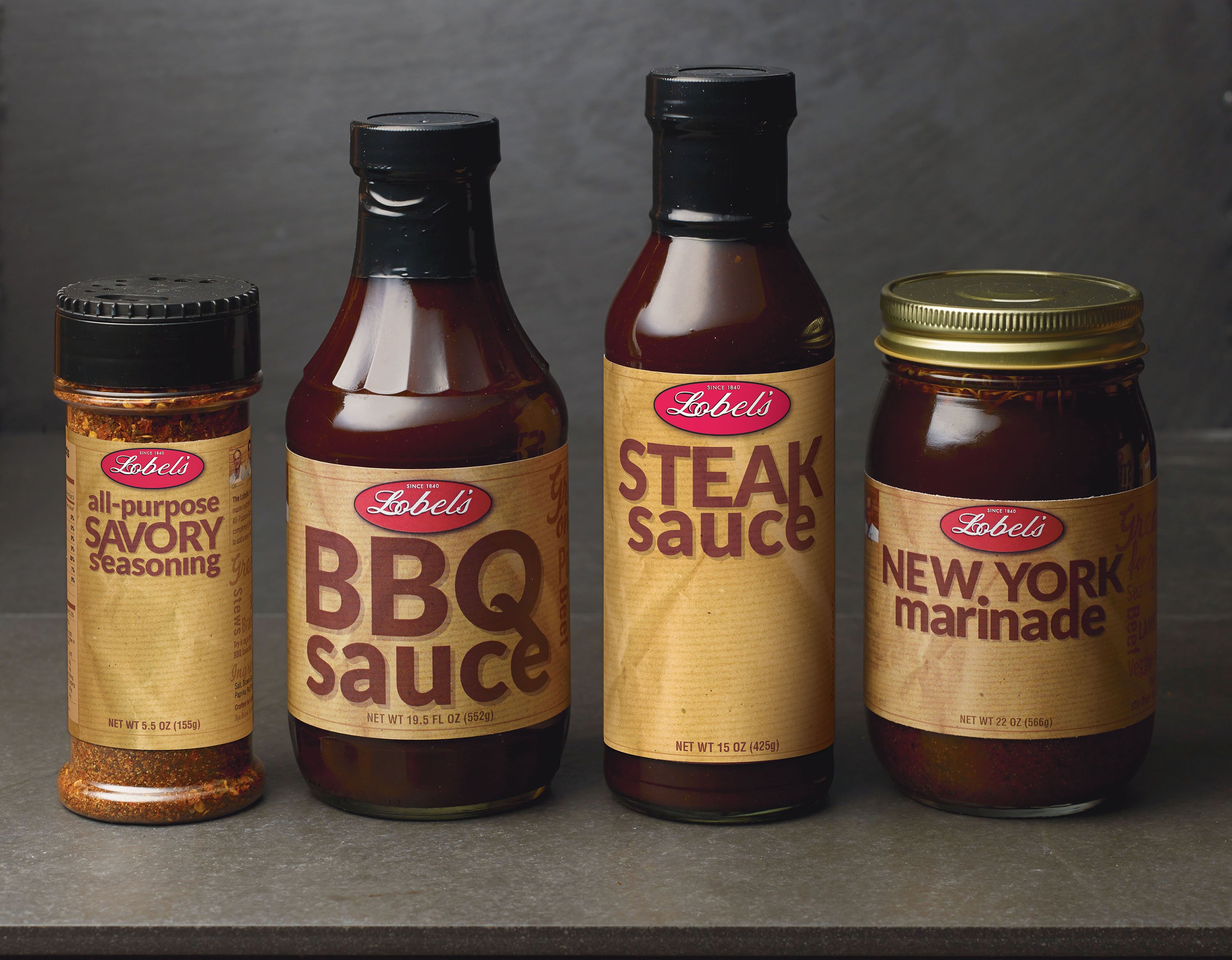 We're shining a spotlight this month on Lobel's Steak Sauce.
About Lobel's Steak Sauce
Created with Lobel's supreme quality dry-aged steaks in mind, Lobel's Steak Sauce is savory and lush. It was formulated to accentuate, not overpower, the inherent buttery, nutty richness of a Lobel's steak.
And even though it says "steak sauce" on the label, let your imagination and taste buds take the lead. It's fabulous on burgers. Try it on every sort of grilled meat, poultry, and seafood.
Tips & Tasting Notes from the Lobels
We asked the Lobels to tell us what they love most about their signature steak sauce.
Stanley Lobel: "I was never a fan of steak sauce because I love the flavor of a nice juicy steak. I used to think that steak sauce just covered up the flavor of a great piece of meat—but our steak sauce has completely changed my mind. We have taken time to perfect the recipe. I feel that the recipe we've come up with is unique and really adds to the flavor of a great steak.
"This sauce is fantastic with any steak. It's so versatile, you can use it on whatever cut you like. Try shell steak, rib steak, or London broil. It's also incredible for topping hamburgers!"
David Lobel: "I really love the flavor of our steak sauce. We took years developing all of our sauces and seasonings—and you can really taste the results of that time and effort in this sauce. We wanted to make sure the recipe was just right, because you don't want to cover up the flavor of an incredible USDA Prime dry-aged steak, you want to enhance it. And that's exactly what this sauce does. It's unbelievable!"
Mark Lobel: "I think the hint of horseradish is what sets this steak sauce apart from others. I have had so many steak sauces in my life and this one is like nothing else I've had before. We really took the time to develop the recipe and I think it's just great.
"This sauce really pairs well with any steak. I would use it as a dipping sauce alongside strip steak, a Porterhouse, or filet mignon. Just make sure you have plenty of it on hand. Once you taste it you won't be able to get enough!"
Evan Lobel: "I love this steak sauce because it complements fine steak very well. It has great flavor without being too overpowering. It's not heavily vinegar-based, so it's not too strong. I think it has a really nice after taste. My favorite steaks to enjoy it with are USDA Prime dry-aged T-bones, Porterhouses, or New York strip steaks."
Watch it in Action!
We sent a bottle of Lobel's Steak Sauce to our friend Troy at "T-Roy Cooks"—check out what he came up with.
Prime Ribeye Steak
The Best Hamburger
Have you tried Lobel's Steak Sauce? What do you like it best on, or what would you want to put it on? What's your favorite quality in a steak sauce—thick, spicy, sweet, tangy?