Autumn is upon us! Days are getting shorter. Kids are back in school. Time seems like a scarce and precious commodity.
Although we are butchers, the Lobel family is also… well, a family! We have busy households with full schedules. We know what it's like on hectic weeknights when it seems like everyone is moving in different directions and there's barely time to eat dinner, let alone cook.
That's why we like to look to our online Butcher Shop for easy—yet delicious—solutions. And we rediscovered a little gem recently that we wanted to share with you. A very little gem: our 1-ounce Cocktail Wieners!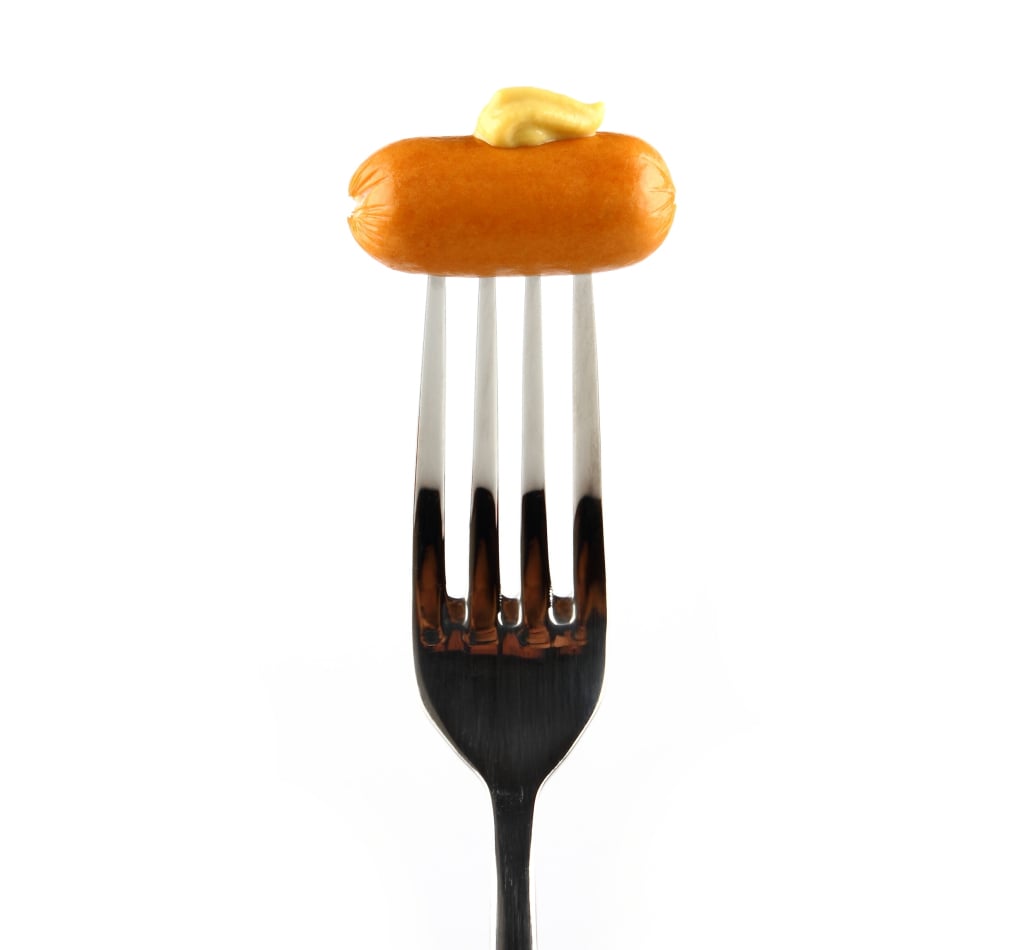 Lobel's Cocktail Wieners are made from the same great recipe as Lobel's Hot Dogs, only bite-sized. Mildly spiced and richly flavored with a subtle smokiness, our cocktail wieners are all beef and come in 1-pound packages of about 16 links per package.
These convenient little links are the perfect basis for any number of creative weeknight meals. Check out these ideas, and share your favorite cocktail wiener ideas with us in the comments!
1. Fancy Pigs in Blankets
Pigs in blankets are basically tiny hot dogs with a built-in bun. These versions are a little more upscale, calling for puff pastry, Swiss cheese, and a spicy German mustard. But really, you can customize this throwback party staple in any way you want. Serve with a hearty salad or steamed vegetables and call it a meal!
Ingredients
2 lbs. Cocktail Wieners
Puff pastry squares (about 32 squares)
1 (8.8 oz.) jar Löwensenf Classic Hot Mustard
16 oz. Swiss cheese, sliced into 1/2-ounce slices
Directions
1. Brush each pastry square with mustard. Lay a slice of Swiss cheese in the center of each square. Top each cheese slice with one cocktail wiener.
2. Wrap each puff pastry square and seal edges with finger.
3. Bake at 400°F for 15 to 20 minutes or until puff pastry is golden brown.
2. Grown-Up Mac & Cheese
Some of us might remember eating this concoction as a kid: macaroni and cheese dotted with sliced up hot dogs. Well, macaroni and cheese has enjoyed a revival of late as a trendy comfort food that can be customized and classed up with any number of melty, gooey cheeses, myriad types of pasta, and a seemingly infinite number of mix-in options, from truffles and lobster to sausage and avocado.
We consider our hot dogs to be more like haute dogs. And our Cocktail Wieners are just smaller version of those dogs. So try customizing this kid-favorite classic by making homemade mac and cheese with your favorite pasta and blend of cheeses and herbs. And add slices of Lobel's Cocktail Wieners. You'll be in throwback comfort food heaven in no time!
3. Homemade Mini Corn Dog Muffins
If you are a recipe pinner, chances are you've seen these tasty little treats on Pinterest. The concept is simple—a quick and easy corn dog. But the key is in the execution. Use a high quality dog, like our Cocktail Wieners, then customize the flavor profile of the cornbread to suit your tastes. You can make a honey cornbread, a spicy cornbread, or stir in whole corn kernels.
Then simply fill mini muffin tins with the cornbread mix and nestle half of a frank in each cup. Again, perfectly portable finger food that just requires a couple of sides to make it a meal.
4. Wieners in a Slow-Cooker of Sauce
This is quite possibly the easiest way to serve Cocktail Wieners. But it is no less delicious. In three simple steps, you can have a tasty entree:
1. Open a package of Cocktail Wieners and put them in your slow cooker.
2. Open a bottle of your favorite sauce and pour it over the wieners.
3. Bring to a simmer.
That's it. Serve with toothpicks for spearing. This makes a great appetizer, or can be served with mashed potatoes or buttered noodles for a quick and hearty dinner.
You can customize it by using your favorite sauce. Some tasty options are Lobel's Barbecue Sauce and Lobel's New York Marinade.
5. Hot Dog Sliders
Everything is cuter in miniature! That goes for hot dogs too. Our Cocktail Wieners, since they're made from the same recipe as Lobel's Hot Dogs, also go great on a bun. You might be able to find "hot dog slider" buns in your local grocery store or bakery, or you can simply slice regular hot dog buns to the appropriate length.
They're a great option, especially if you're serving a crowd of youngsters. You can even serve them alongside burger sliders with a variety of toppings for each and it's not just a meal, it's a party!
6. Wieners Sautéed with Peppers and Onions
This classic preparation for great sausages also works for our bite-sized Cocktail Wieners. Simply sauté the wieners in butter with sliced bell peppers and onions. Serve over a bed of mashed potatoes or alongside roasted potato wedges. Dinner is served!
7. Baked Beans
Call them pork and beans, BBQ beans, or baked beans—whatever your preference, we all know and love those canned navy beans in a tomato sauce.
Talk about fast, easy, and versatile, these beans work straight out of the can, or you can add a whole lot of flavor interest without devoting a whole lot of time.
Our favorite doll-up of canned beans is to start with a variety that has little added flavors because you are going to be adding all the flavors yourself.
Ingredients
1 (28 oz.) can beans
1/2 lb. Cocktail Wieners, cut each into 2-3 pieces
1/4 cup ketchup
2-3 tablespoons mustard (try different types)
1 medium diced sweet onion (or more as you wish)
1/3 cup dark brown sugar, plus 2 tablespoons
1/4 to 1/2 cup of your favorite barbecue sauce (Lobel's Barbecue Sauce is an excellent choice)
6 slices bacon, diced
Directions
1. In a large mixing bowl, combine the beans, cocktail wieners, ketchup, mustard, onion, 1/3 cup brown sugar, barbecue sauce, and half of the diced bacon in a large bowl.
2. Transfer to an aluminum loaf pan, press down, and smooth the top of the beans.
3. Sprinkle the top with the remaining diced bacon and 2 tablespoons of brown sugar.
4. Bake in a pre-heated 350°F degree oven for about 30-45 minutes, until the beans are heated through, and the bacon and brown sugar on top are crispy and caramelized.
Optional: For ultimate flavor, place the loaf pan of beans in a smoker for 1 1/2 to 2 hours.
 What's your go-to quick weeknight meal solution? What's your favorite way to enjoy Cocktail Wieners?