October is National Chili Month. Nothing is better on a crisp autumn day to chase the chills away than a big bowl of hearty chili.  Whether you go with beans or no beans, beef or chicken, mild or spicy, this comfort food favorite is guaranteed to warm you down to your toes.
In honor of National Chili Month, we've compiled all of our best chili resources to help you make the ultimate chili.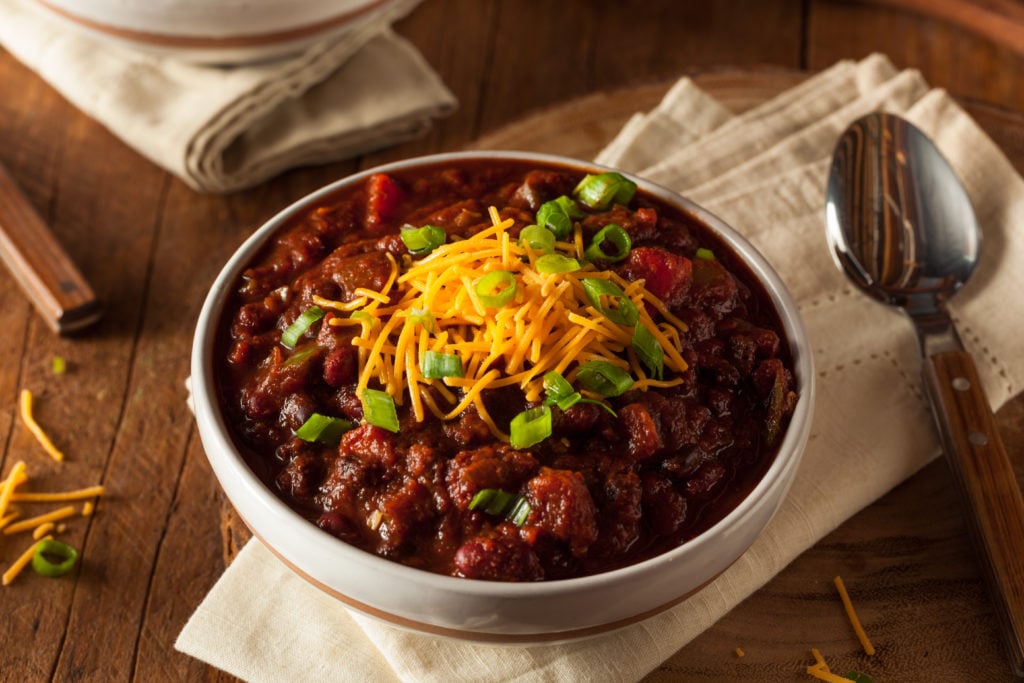 Culinary Classic: Chili
Like many classic dishes, chili—as we know it today—had humble beginnings. Unlike many classic dishes, chili has become its own phenomenon with unlimited variations, voracious devotees, and hot controversy.
Cooking meat in liquid is about as old as any cooking method we know. And mixing meat with chiles and other ingredients was common among the Inca, Aztec, and Mayan civilizations.
However, the chili best known today had its roots in Texas on long cattle drives in the mid-1800s. In the late 1880s, "chili queens" popularized the dish in and around San Antonio, serving up bowls of chili warmed by mesquite fires from colorful carts. In 1893, chili had its breakout moment at the Columbian Exhibition in Chicago where the San Antonio Chili Stand sold bowls of "Texas red" to people from all over the country and the world.
In 1977, chili con carne (chili with meat) became the official dish of the state of Texas. Today, the International Chili Society (ICS) sanctions 200 chili cook offs around the country.
From the notorious James brothers and outlaw Billy the Kid to Will Rogers, Elizabeth Taylor, and Lyndon Johnson, stories, legend, and lore abound about the affection, and even obsession, people have for their particular favorite chili.
And as universal as its appeal, you'll never find the perfect chili recipe, or you may find a million of them.
Watch & Learn: Hearty Homemade Tri-Tip Chili
Looking for a way to "spice up" your chili a bit? No, we're not talking about a new seasoning. We're talking about trying a new cut of beef in your recipe: Tri-Tip! Check out this great video recipe from "T-Roy Cooks." As you can see, he could barely keep the taste-tester's spoons out of the pot!
Recipes for Your Next Chili Night
Recipe: West Indian Chili Con Carne
A departure from traditional Texas chili, this tasty recipe calls for both beans and tomatoes.
Recipe: Beef and Chorizo Chili
This hearty, spicy chili with South-of-the-Border flair is a unique recipe that will kick up the flavor factor for a weeknight family dinner.
What is your favorite chili recipe? Do you put beans in your chili? Have you ever made chili using tri-tip?