Christmas is the epitome of celebratory holidays—and starting the morning off right can set the tone for a merry day indeed.
Christmas Day breakfast can become an event in and of itself. That's why we've compiled this list of our favorite recipes to enjoy on Christmas morning.
7. Egg & Sausage Casserole
This hot and hearty casserole should be made the night before, refrigerated overnight, then popped into the oven Christmas morning.
Once you've had a cup of coffee and taken a peek at what Santa put in your stocking, you'll have a warm, cheesy breakfast dish ready to serve.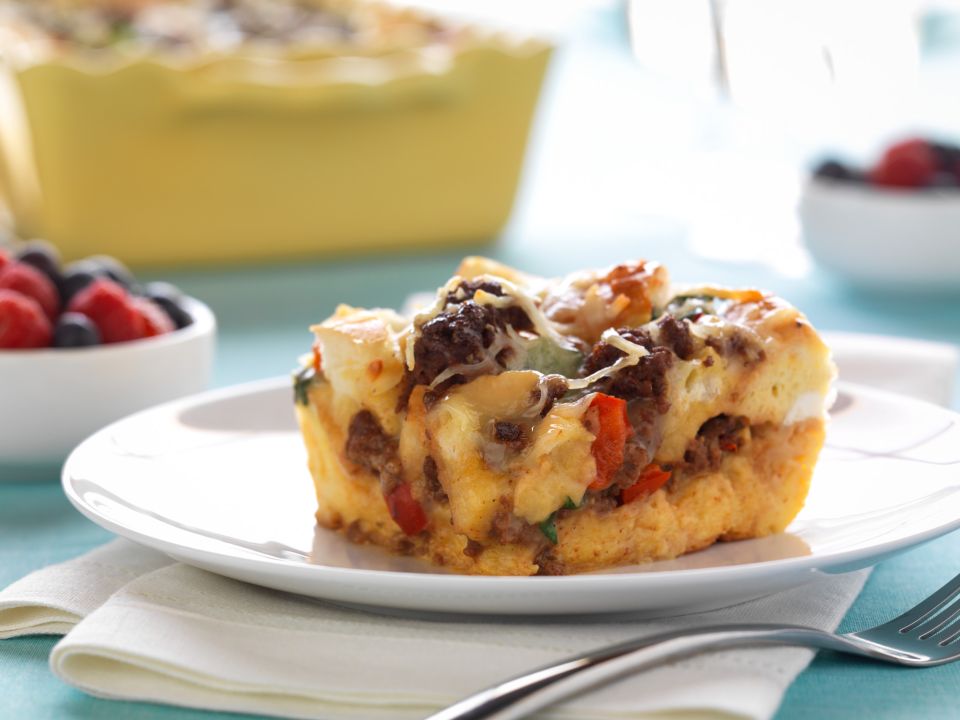 6. Slow-Cooker Breakfast Casserole
We've tried this recipe from All Kinds of Yumm and adapted it to put our own spin on it.
Any of Lobel's bacons and Lobel's All-Purpose Savory Seasoning add a delicious smokiness to this breakfast casserole—it fills the whole house with a wonderful aroma.
Prepare this the night before and start the slow-cooker right before you go to bed. It's best if you have a digital slow-cooker that you can program to cook at just the right time or that will switch to "keep warm" mode once the cooking time is complete.
5. Baked French Toast
One of our employees found this recipe on Pinterest and tried it on Christmas morning.
She used our Maple Syrup Butter and said it was a hit with her family. She'd recommend this sweet, make-ahead breakfast for any busy holiday gathering.
Get the recipe here.
4. Breakfast Hash
Humble yet delicious, hash is an excellent way to turn delicious Christmas dinner leftovers into a delicious Christmas morning breakfast.
No matter the type of meat you have on hand, the method is essentially the same.
You can follow our recipe for Turkey Hash or watch the video below to see how Prime Rib Beef Hash is made.
3. Maple-Lover's Stuffed French Toast
Just can't get enough maple syrup? Then you're going to want to try this recipe.
It's sure to sweeten up your Christmas morning—plus our Smoky Maple Links will sustain you through all your gift unwrapping!
2. Eggs Benedict
You'd be hard-pressed to find a breakfast dish more decadent than Eggs Benedict. It's the kind of dish that is food for the psyche and soul. It is the elegant pinnacle of comfort food, an ode to excess.
Eggs Benedict is all about indulgence—throwing caution to the wind for an almost divine interaction with your food. And that makes it the perfect indulgence for Christmas morning.
1. Steak and Eggs
Maybe as butchers we're biased, but steak and eggs is our idea of the ultimate hearty holiday breakfast.
Our USDA Prime Dry-Aged Minute Steaks are petite boneless strip steaks that cook up in a flash.
You can follow our recipe for Steak and Eggs, or get some inspiration from our friend Troy of YouTube channel "T-Roy Cooks" and create a delectable grilled breakfast (as long as you don't have to brave the snow where you live)!
Bonus Tip: Bloody Mary!
This one is more of a serving suggestion than a recipe. If you're partial to something a little stronger than coffee on Christmas morning, whip up a batch of Bloody Marys, then spice up your presentation by adding a Smoked Steak Strip as a garnish.
What's your favorite breakfast to have on Christmas morning? Do you have any special foods you eat on Christmas Day? Do you usually have a full breakfast or brunch on Christmas? Which of these breakfast recipes would you try first?