Though variations of this dish abound throughout Eastern Asia, particularly the many regions of China from Szechuan to Singapore, barbecued pork's lacquered-mahogany sheen makes it one of the most readily recognizable dishes in the pantheon of Asian cuisine.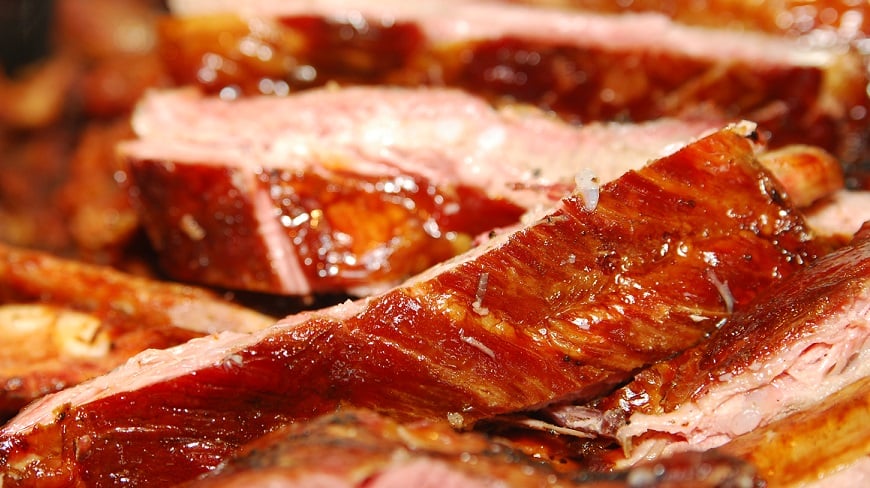 A Pork Dish Named Siu
On a cold day, tucking into your favorite Chinese eatery for some hot tea and a plate of Chinese BBQ pork with simply steamed rice and pan juices is a recipe for smoothing away the edges of the most prickly soul.
Originating in Canton in ancient times when boar was the meat of choice, this type of pork preparation is known as char siu, literally fork roast. Similar spellings and recipes proliferate in the Far East, including char siew in Thailand and Malaysia and Chāshū in Japan. According to a 2011 poll by CNN, char siu ranked 28th out of the top 50 most delicious foods in the world.
Siu mei is a shop or restaurant specializing in roasted meats—where strips of BBQ pork hang in the front window next to golden and crispy Peking ducks, wrinkly sausages, and other roasted meats.
You'll find char siu diced in fried rice, sliced into small rectangular tiles in many stir-fry dishes and soups, tenderly julienned in egg and spring rolls, or shredded and layered into a pillowy bun.
Cuts of Pork
The fattiness of char siu can be easily controlled according to which cut of pork you use. Pork loin would have the least fat. Pork tenderloin has about the same fat content, but has the added advantage of being naturally portion-controlled in about 10-ounce pieces. You can up the flavor quotient in either case by using Berkshire pork loin which has more marbling.
At the other extreme, pork belly's alternating streaks of lean and fat are indulgent to say the least because, were the same cut cured and smoked, it would be called bacon.
The most popular choice is pork shoulder which yields well-marbled and juicy strips. And in the middle of it all—fat-content-wise—is pork collar (neck) which though harder to find is worth the hunt.
Whichever cut you choose, you'll cut it into hunky strips of 8 to 10 ounces before marinating and roasting.
Prominent Flavors
The main flavor components of char siu include:
5-spice powder, a traditional blend of star anise, cassia bark (related to cinnamon), cloves, Szechuan pepper and fennel.
Dark and light soy sauces, which when cooked, add the reddish color.
Hoisin sauce, thick Chinese BBQ sauce.
A sweetener: maltose (malt syrup—also painted on Peking duck to make the skin extra crispy) or honey. Use maltose when you want crispy but mild sweetness and honey when you want it crispy and sweet. During roasting, the sweeteners caramelize on the surface and add a sweetness contrasted against the savory and salty qualities of the other ingredients.
The characteristic deep reddish color comes about two ways: authentically by the chemistry of the soy sauces and red bean paste, or by adding red food coloring. The two are easily detected—the coloring adds an artificial-looking pinkish-red hue to the edge of the meat. The natural coloration in char siu reminds one of the pink-red ring in Southern-U.S.-style smoked foods.
Recipes in text and video are easy to find on the Internet. Just search for: char siu recipe.
Or check out our recipe here. 
Have you made char siu yourself? What's your favorite cut of pork to use? Or do you have a favorite restaurant where you like to order Chinese BBQ pork? What's your favorite dish that uses char siu as an ingredient?