To quote classic Sinatra: You can't have one. You can't have none. You can't have one without the other.
As with peanut butter and jam, mashed potatoes and gravy, lo mein and oyster sauce, strawberries and whipped cream, certain foods have certain affinities for certain other foods that create indelible and unique taste memories.
From a hearty, grilled, perfectly medium-rare rib steak topped with a garlicky mushroom sauté, or Beef Wellington coated with mushroom duxelles and wrapped snugly in a blanket of puff pastry, to the earthy, slow-cooked classic of Boeuf Bourguignon, beef and mushrooms share that type of affinity.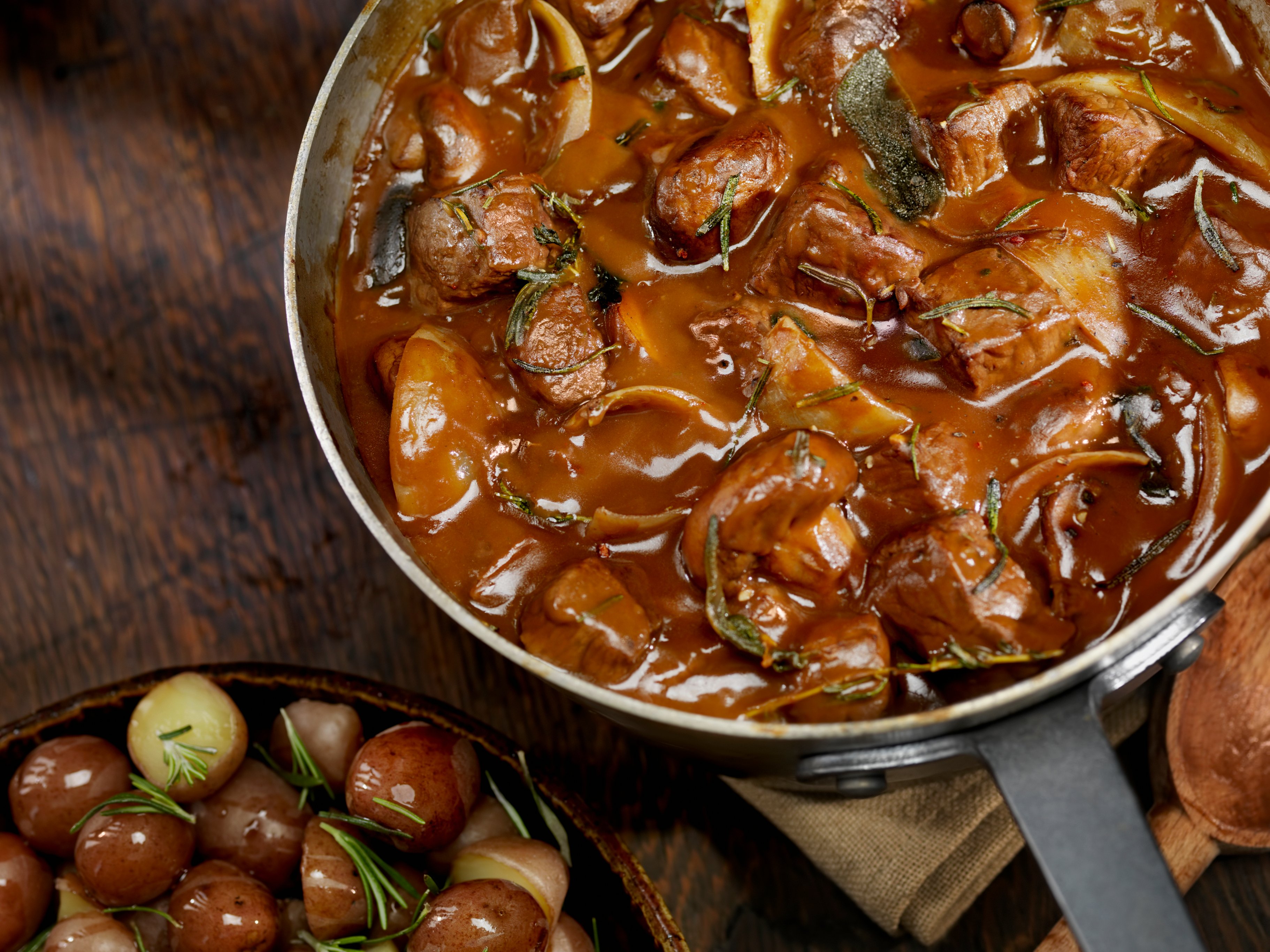 The Sum Is Greater Than Its Parts
Cultivated since ancient times for their medicinal, religious, and psychoactive properties, mushrooms were not cultivated as a food source until rather recently. There is an excellent short, historical article about mushrooms and their origins on the Public Broadcasting System website by food scholar Tori Avery.
Caution: Unless you are with an experienced mushroom hunter, never eat a mushroom you find in the wild. Too many accidents and deaths happen because inexperienced and excitable mushroom seekers have mistaken one edible mushroom's identity for one that is toxic.
Popular Mushroom Varieties
First cultivated in the 17th century, edible mushroom varieties were rather limited until the last 30 to 40 years as long-restricted varieties began to emerge on the food scene. Not terribly long ago, white button mushrooms were the best most supermarkets could do. Now, exotic mushrooms are within grasp, whether from the local grocery store or via the Internet, everything from fresh truffles and portobellos to morels and hen-of-the-woods. The expansive and authoritative website Epicurious.com has an excellent article on 14 popular types of mushrooms with illustrations, photographs, descriptions, and uses.
Recipes for Mushroom Lovers
Can't get enough mushrooms? Check out our basic guide for a steak accompaniment below, plus two video recipes. You'll find even more mushroom recipes at lobels.com.
Recipe: Basic Sautéed Mushrooms
Most types of mushrooms can be sautéd in a similar fashion to accompany a robust steak or luxurious roast. Small mushrooms may be left whole. Larger varieties, from shitakes up to portobellos, should be cut into strips or cubed. Remove, yet reserve, mushroom stems. While some stems are tender enough to be chopped and cooked with the mushroom caps, some are very woody. However, all mushroom stems are great as an ingredient in making stock, adding depth of flavor.
Ingredients
2 Tbsp. unsalted butter
2 Tbsp. extra virgin olive oil
1/2 shallots, peeled and minced
1/3 large garlic cloves to taste, peeled and minced
1/½ lbs. mushrooms, single variety or mixed, sliced into strips or cubed
2 Tbsp. chopped parsley
1 Tbsp. fresh thyme leaves
2 Tbsp. Beef glace or 1/4 cup unsalted beef stock
2 Tbsp. dry sherry (optional) Salt and fresh cracked pepper to taste
Directions
Heat olive oil and butter in a large skillet over medium-high heat.
Add shallots and reduce heat to medium heat and cook until the shallots are translucent, 2 to 3 minutes.
Add garlic and cook until fragrant, about 30 seconds. Do not let it burn or it will become bitter.
Add the mushrooms, thyme, parsley, glace or stock, and cook until the mushrooms are tender and release their juices, about 5 minutes. (Mushrooms are 92% water.) Note: If using sherry, add it now.
Season with salt and pepper to taste, and simmer until the pan juices thicken and coat the back of a spoon.
Remove to a serving bowl and garnish with additional fresh parsley, if desired.
Spoon over individual steaks or serve family-style at the table.
Cooking Note: Topping a perfectly cooked steak with a pat of truffle butter is the ultimate indulgence or try removing the pan of mushrooms from the heat and melting some truffle butter on the mushrooms just before serving.
Video Recipe: Chateaubriand with Red Wine Mushroom Sauce
Our good friend Troy of YouTube channel "T-Roy Cooks" prepared his version of a Lobel's USDA Prime Chateaubriand accompanied by a mushroom pan sauce. Watch how he does it below.
Video Recipe: Beef Wellington
This recipe is an absolute treasure. Handed down to the Lobels from the owners of New York's famous and infamous 21 Club, this version is a classic of a classic. This variation uses Pate de Foie Gras and diced truffles to create the top layers of exquisite richness. Our friend John of YouTube channel "Big Meat Sunday" created a Beef Wellington from Lobel's USDA Prime Tenderloin Roast, wrapping it in prosciutto and a coating of minced, cooked mushrooms, called duxelles.
Don't forget to celebrate National Mushroom Day on Oct. 15!  
What are your favorite types of mushrooms? What is your favorite way to cook them? Do you add other ingredients when you cook mushrooms?