The wedding bells are ringing. Your foodie friends are tying the knot and we know the perfect gifts. Surprise them with an unexpected gift that will tantalize their taste buds and send them off into delicious wedded bliss.
Rather than relying on a registry, check out our list of decadent non-traditional wedding gifts and anniversary presents for all of the gourmands on your gift list.
1. Give them the epitome of culinary luxury: Wagyu Rib Cap
If you're looking to treat the happy couple to the ultimate in food experiences, look no further than the Wagyu Rib Cap. Surrounding the eye of every rib steak or roast is a highly marbled layer of the most tender, succulent, and flavorful meat you can imagine: the rib cap.
And when the rib cap comes from an aged Wagyu rib, prepare yourself to be blown away by flavor, tenderness, and juiciness that has no comparison.
2. For a cozy, romantic dinner
No roast is more elegant than a Chateaubriand Roast. Even with a simple preparation, this roast is exquisite.
Chateaubriand is cut from the center of the tenderloin. One of the most versatile and highly prized of all beef roasts, tenderloin is leaner than most and tender beyond belief. The 24-ounce Chateaubriand for Two is the perfect centerpiece for a sumptuous date night dinner.
 3. The perfect steak for couples
Impressive is the first word that comes to mind when considering a Porterhouse steak. It's two steaks in one! With the center bone intact, Lobel's of New York USDA Prime Porterhouse combines a full portion of the filet and a full portion of the strip into an all-in-one steak—dry-aged to maximize its tenderness and flavor. The newlyweds could each pick a steak, or they can share both portions!
4. Give them a practical and high quality kitchen staple
Knifes may seem like an obvious choice as a wedding present, but not all knives are created equal. Lobel's Steak Knives are made in the tradition of the great German knife makers and are prized for their razor-sharp cutting edge, hand-forged quality, and balanced, ergonomic design.
Housed in an understated matte black presentation and storage box, these knives are ready for gift-giving. They'll think of you every time they're slicing the best steaks with the best knives.
5. For a casual and delicious grilled steak dinner
Fine marbling, hearty flavor and a resilient, meaty bite are the hallmarks of what many call the "steak lover's" steak. At 30 ounces, Lobel's USDA Prime Dry-Aged Boneless Double Strip Steak for Two this is the perfect steak to share. Strip steak is one of the most popular steaks for grilling.
6. Spread the love with Sweetheart Steaks
A Sweetheart Steak is a 20-ounce Boneless Strip Steak or Boneless Rib Steak butterflied into the shape of a heart. The happy couple will fall more in love with every bite.
7. Give the inspiration for many delicious home-cooked, date-night dinners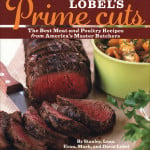 Give the gift of recipes to your favorite home chefs by picking up one of the cookbooks authored by the Lobel family. They'll not only be able to select a delicious recipe for a romantic anniversary dinner, they'll have a source for menu inspiration all year long.
8. Let them choose what they're craving with a gift certificate
Not sure which steak the newlyweds would enjoy most? Treat them to a Lobel's of New York gift certificate! They'll be able to pick out exactly what they have been craving and decide when they want it delivered.
Have you given any of these gifts as a wedding or anniversary present? What is the best non-traditional wedding or anniversary present you've received?
Save
Save