When it comes to Super Sunday Game Day parties, there are three types of people: Those who are there for football, those who are there for the ads, and those who are there for the food.
And that's what gets us most excited—Super Sunday food.
Did you ever wonder what other people prepare for Super Game Day?
Well, most recently Refinery29.com published a very interesting article giving the most Googled Super Sunday recipes by state.
Interestingly, not one state had pizza as their Super Sunday favorite. Go figure. Maybe it's because most people opt for take-out pizza rather than making it themselves.
Mac 'n cheese, cheese dips, and variations account for the cheese-overload category. And, of course, chicken wings and related dips account for the second and third most popular foods.
But, national trends aside, here's what we are looking forward to eating this Super Sunday.
1. Anything Made in an Air Fryer
Some say Super Sunday party food should be made healthier, while others say: Indulge—eat anything and everything you want and get back to a healthy diet on Monday.
One appliance that is taking kitchens by storm is an air fryer, which can help you meet both objectives on Super Sunday. Air fryers produce foods that have all the crispness and flavor of deep-fried foods, but with no or very little oil—75% less oil/fat.
French fries, chicken wings, dumplings, onion rings, and so much more can be done in batches in just minutes—less time than deep-frying, so your party momentum never lags.
Air fryers can be found for under $100, or you can spend over $400, depending on its capacity and whether it is single-purpose or is capable of other cooking methods, such as roasting or baking.
2. Poutine
One notable trend is the rising popularity of poutine and the many re-interpretations of this Canadian/Quebecois classic of French fries, cheese curds, and brown gravy.
Recently poutine has made its way across the Canadian border and spread south through the U.S. It's currently exploding on restaurant menus, taking this humble, blue-collar indulgence to such upscale heights as duck confit poutine, foie gras poutine, Tex-Mex poutine, braised short-rib poutine, and so many other variations.
Kick up your poutine with grilled hanger or skirt steak slices, pulled pork, sausage rounds, sautéed shrimp, or lobster medallions. The sky is the limit.
3. Wings
Chicken wings seem to be omni-present at football parties. Whether grilled, baked, fried, or roasted, wings can take on so many different flavors to appeal to a variety of tastes.
Try making 2 or 3 different sauces to serve on the side and allow guests to pick their preference. Or coat the wings with each sauce and serve. Try a spicy sauce, a creamy sauce, and a sweet sauce, for example.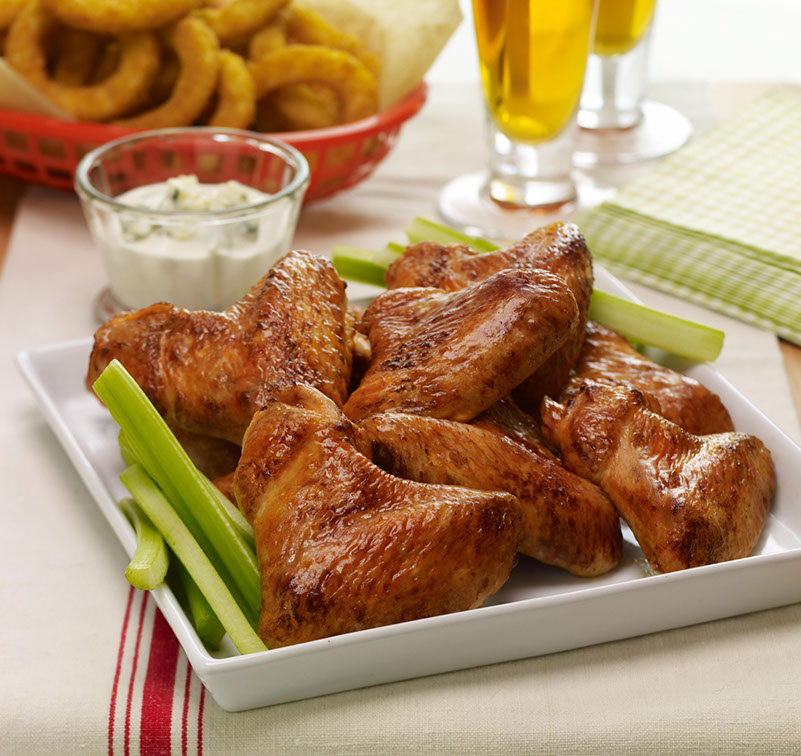 4. Anything Bite-Sized
Main attractions of a Super Sunday spread are quantity and variety. A spread of appetizers and finger-foods meets these requirements perfectly.
When it comes to appetizers, it is a good idea to have a mix of hot and cold. That will conserve your time and energy, allow you to prepare appetizers in advance that can be served as they are heated in your oven.
Many party planners recommend making your appetizers in 2-bite pieces. That way guests can sample a wider variety of appetizers and they are easier for guests to plate.
We love these bite-sized nachos and bacon-wrapped shrimp jalapeno appetizers from our friend Troy of YouTube channel "T-Roy Cooks." Some of our favorite appetizer recipes include Lamb Lollies, simple Sausage Rounds, Ham and Brie Canapés, Smoked Salmon Canapés, and Lamb and Bacon Meatballs. We've also collected some great appetizer inspiration on our Pinterest board.
What are your favorite game-day foods? Do you prefer a finger-food bonanza or a heartier approach with a stew, soup, or braised dish such as pot roast or brisket? Are you going to try something completely different this year? If so, what?