At this time of year, it seems that everyone is planning for that big holiday dinner. Some of the most frequent questions we get are about holiday roasts: Which type? How big? How many servings? How long to roast? What temperature?
So, we've assembled just about everything we could think of to tell you about planning and preparing one of our rib roasts for your holiday extravaganza.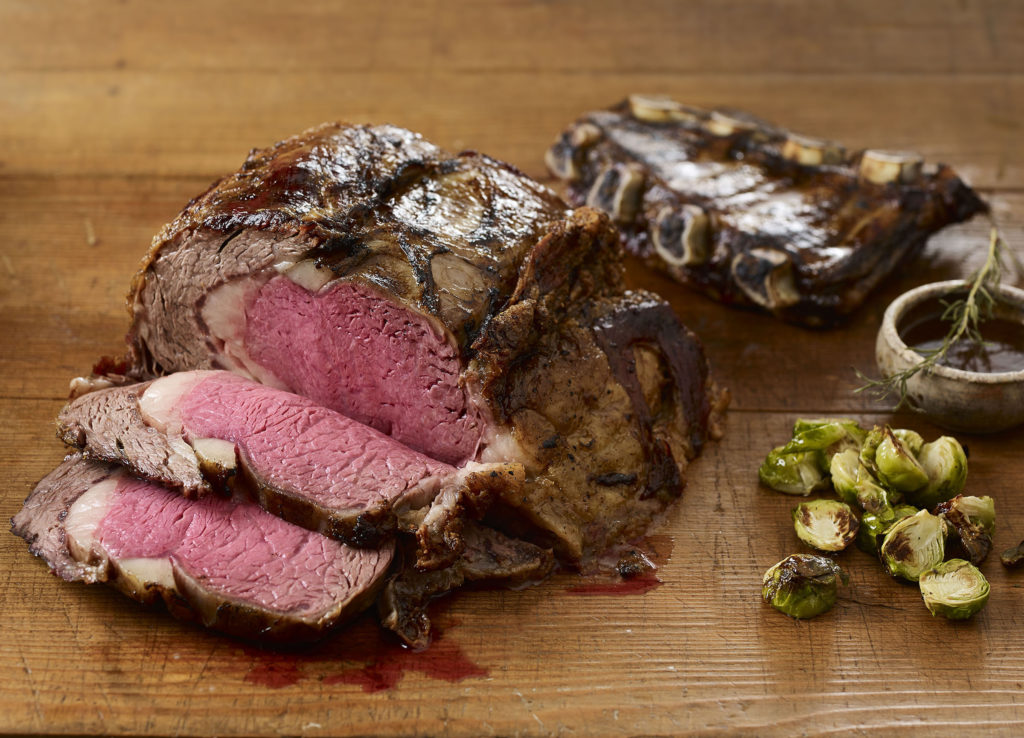 Traditional Favorite: Impressive USDA Prime Beef Roasts
Beef roasts are the traditional centerpiece to a holiday meal. Take your dinner to the next level with a dry-aged rib roast, dry-aged boneless shell roast, or tenderloin roast.
Dry-Aged Rib Roasts
One of the most desirable of all beef roasts happens to be Lobel's signature roast.
A traditional choice for festive occasions, these well-aged roasts are impressive in presentation and a delight on the palate—exquisitely flavorful and tender.
Bone-In: Choose a roast with the bone for enriched flavor and mouth-watering appeal.
Boneless: Select a boneless roast for easier carving and serving.
Boned & Tied: Can't decide between the convenience of a boneless rib roast and the added flavor of a bone-in roast? Now you can have the best of both worlds by ordering a boned and tied rib roast. We start with our bone-in roast, remove the rib bones for you and then retie them onto the roast. After roasting, simply cut the strings, set the bones aside and enjoy the easiest carving imaginable.
Check out this video from our good friend Troy of YouTube channel "T-Roy Cooks" as he roasts a 10-pound Boned & Tied USDA Prime Dry-Aged Rib Roast and makes a homemade gravy.
Dry-Aged Boneless Shell Roasts
Also known as a strip loin roast, Lobel's USDA Prime Dry-Aged Boneless Shell Roast is an ideal selection for serving at dinner parties and buffets because it is so easy to prepare, carve, and serve.
The shell is one side of the short loin—the other side being the tenderloin.
If this roast were cut into individual steaks, you'd have shell steaks, which are more popularly known as strip steaks or New York strip steaks.
So, imagine a whole stack of strip steaks in one piece—this is a roast that is meaty, juicy, and tender with a deliciously beefy flavor. In other words, it's a real crowd-pleaser.
In this video, Troy of YouTube channel "T-Roy Cooks" reverse sears an 8-pound dry-aged shell roast with pan-juice gravy:
Tenderloin Roasts
The tenderloin is one of the most versatile and highly prized of all beef roasts—leaner than most and tender beyond belief.
Whole tenderloins are oblong, about 2 to 2 1/2 inches thick, with tapering ends called the head and the tail. When the head and tail are removed from the tenderloin, the remaining center piece is called Chateaubriand, known as a particularly luxurious and tender roast.
Our whole tenderloin roasts come tied with butcher's twine to retain their shape during shipping. Simply snip the twine prior to pan searing or grilling, or snip the twine after roasting.
Our 20-ounce Tenderloin Roast is cut from the large end of a whole tenderloin—an economical cut compared to center-cut filet mignon steaks and Chateaubriand roasts, yet it offers the same tenderness and flavor shared by all tenderloin cuts.
Watch as our friend Troy of YouTube channel "T-Roy Cooks" makes Chateaubriand Roast with Red Wine Mushroom Sauce:
Watch as our friend John of YouTube channel "Big Meat Sunday" makes a delectable Beef Wellington from one of our tenderloin roasts:
Rib Roast 101
If you've chosen to prepare a rib roast for your holiday dinner, our Rib Roast 101 guide is a great resource for you.
It includes tips on estimating what size roast to buy, what size roasting pan you'll need, how to tell when your roast is done, and some recipes.
Step-by-Step Help for your Holiday Beef Roast
So now that you've selected your roast, help in preparing it is just a click away. Be sure to bookmark our online step-by-step tutorial, How To: Roast a Rib Roast.
You can view and print our photo tutorial for handy stove-side reference.
Every step in the tutorial is accompanied by a corresponding photo so you can read not only how to do it, but you can see it as well. And you can enlarge each photo to see each step in detail.
Or watch our video tutorial and get talked through the process by Stanley Lobel:
Don't forget the gravy!
Whether you're pouring it on roast beef, potatoes, or something else, gravy is an all-important part of any holiday meal. A great roast deserves an equally great gravy. And making homemade gravy is easier than you may think.
Simply follow the instructions found on our step-by-step Culinary DIY: Gravy guide.
Do you usually prepare a big holiday dinner? Do you prepare dinner for Hanukkah, Christmas Eve, Christmas Day, New Year's Eve, or on some other day of the month? Do you prepare a beef roast or some other main course? Do you make your own gravy? What's your favorite menu item for a holiday dinner?