The Lobel family of Lobel's Prime Meats in Manhattan and Lobel's of New York online butcher shop are fourth- and fifth-generation butchers. With our Cut of the Month series, we will bring you their wealth of knowledge and expertise on specific cuts of meat, including their unique characteristics, preparation methods, and how to select the best cut.
The tenderloin is one of the most versatile and highly prized of all beef roasts—leaner than most and tender beyond belief.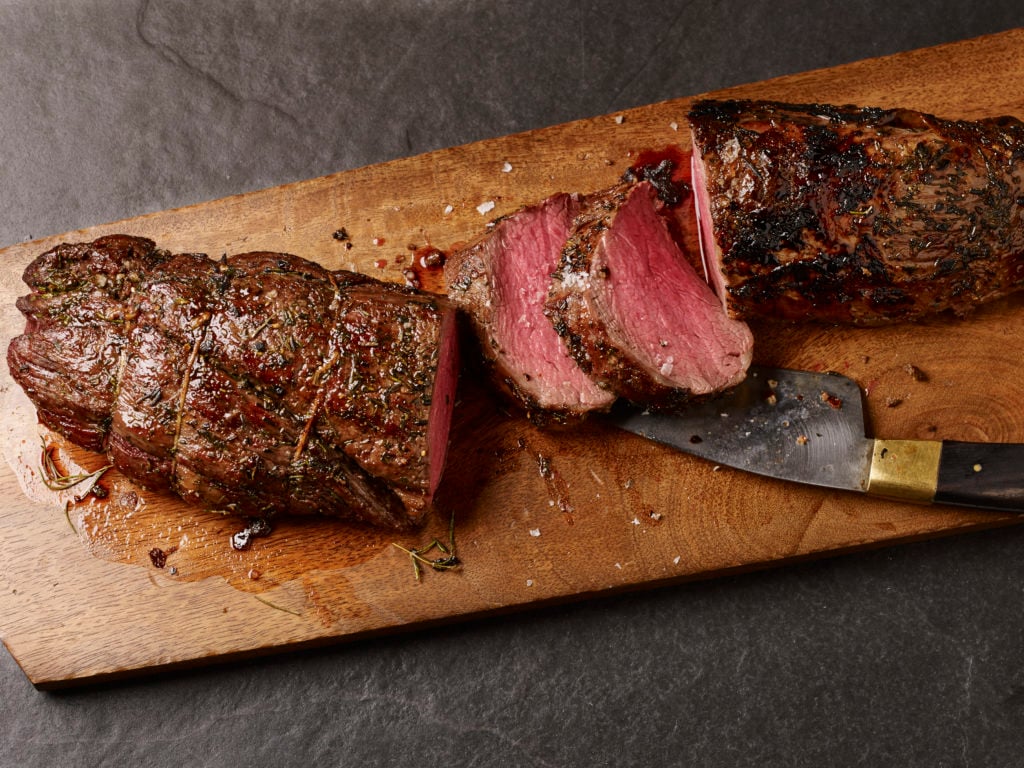 Also sometimes referred to as a "whole filet," the tenderloin of the steer is cut from the loin and, before it is trimmed of fat, can weigh as much as 8 or 9 pounds.
This tender, boneless roast is sold both trimmed and not, but we highly recommend you buy it trimmed when it will weigh 3 to 5 pounds. Trimmed tenderloins cost more per pound, but at least you will know what and how much meat you are getting. Even when trimmed, the silverskin might still be attached to the meat and should be removed with a knife before the tenderloin is cooked. The silverskin is the thin membrane that separates the fat from the meat.
Ask the butcher to remove the silverskin if you are not sure how to do it. Lobel's of New York removes silverskin from our tenderloins before we tie them for shipping.

Parts & Pieces
Whole tenderloins are oblong, about 2 to 2 1/2 inches thick, with tapering ends called the head and the tail. When the head and tail are removed from the tenderloin, the remaining centerpiece is called Chateaubriand, known as a particularly luxurious and tender roast.
The tail makes a great London broil, and both ends can be thinly sliced for excellent sandwich steaks, cut into cubes for kabobs, sliced paper-thin for carpaccio, or chopped and served raw for steak tartare.
When the center portion of the tenderloin is cut into thick steaks, they are known as filet mignon.
Watch as Evan Lobel, fifth-generation master butcher, shows you how to butcher a whole tenderloin at home:
Tenderloin Selections from Lobel's of New York
Our whole tenderloin roasts come tied with butcher's twine to retain their shape during shipping. Simply snip the twine prior to pan searing or grilling, or snip the twine after roasting.
Our 20-ounce Tenderloin Roast is cut from the large end of a whole tenderloin, an economical cut compared to center-cut filet mignon steaks and Chateaubriand roasts, yet it offers the same tenderness and flavor shared by all tenderloin cuts.
We also offer cubes of tenderloin that are perfect for kabobs, satay, stir fry, fondue, or sautéed dishes.
Additionally, our Tournedos of Beef and Filet Tails are cut from the tail end of the whole tenderloin.
Our Bone-In Tenderloin Steak and Bone-In Filet Mignon are unique offerings that many steak-lovers enjoy because of the added flavor from the bone.
As well, we grind this luxurious cut to create our USDA Prime Filet Mignon Burgers—a customer favorite!
And last, but not least, everything is better with bacon, right? We also offer Bacon-Wrapped USDA Prime Tenderloin Steaks and Roasts.
As you can see, this one versatile roast can become a plethora of versatile and delicious cuts.
Tenderloin Recipes
The whole tenderloin lends itself to a wide range of preparations: roasted, grilled, even poached.
This includes the classic Beef Wellington, in which it is wrapped in pastry for a decadent dish.
Tenderloin & Chateaubriand Roast Recipes
Tenderloin Roast with Mushroom Sauce
Chateaubriand Roast with Bordelaise Sauce
Filet Mignon & Tenderloin Steak Recipes
Filet Mignon with Cognac & Herb Sauce
Filet Mignon with Peppercorns and Brandy
Grilled Filet Mignon with Gorgonzola Scallion Compound Butter 
Butterfly Filet Mignon with Sherry
Filet Mignon with Blue Cheese Topping
Other Tenderloin Recipes
Stir-Fried Beef with Onions and Rice Noodles
Tenderloin Kabobs with Rosemary-Brushed Potatoes and Red Peppers
Tenderloin Video Recipes
Have you tried our tenderloin roasts, steaks, or other cuts yet? Which is your favorite selection and what is your favorite way to prepare it? Have you ever butchered a whole tenderloin at home?